V
(1983)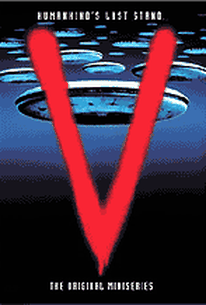 Movie Info
When aliens come to Earth to ask for our help, a few suspicious humans discover their horrific true intentions and prepare to resist.
Audience Reviews for V
The original - and still the best - miniseries from Kenneth Johnson!! Huge spaceships appear hovering over all the major cities of the world. Soon, we are introduced to The Visitors, who have come for our help. But, their true nature is yet to be revealed. Our scientists become a target of ridicule and are being hunted one by one. What are The Visitors really hiding? They are searching for a new food source - US!!! Marc Singer leads the cast as a cameraman who discovers their true nature!! Excellent story with a morality tale hidden beneath!!
Bill Cox
Very fond childhood memories of this sci-fi allegory for Nazism. Not so well done in retrospect, but hey, it was 1983...
Eric Jenkins
It's pretty dated, but there are many interesting scenes and great characters. The effects aren't too bad for an early 80's TV mini-series and the story is pretty great. The first part is pretty great and an excellent science fiction story, but the rest of it sort of falls slowly. Still very entertaining.
Wes Shad
V Quotes
There are no approved quotes yet for this movie.
Discussion Forum
Discuss V on our Movie forum!