In the Fog
(2013)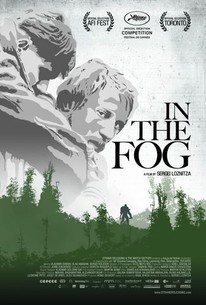 TOMATOMETER
AUDIENCE SCORE
Critic Consensus: While it treads familiar narrative ground -- and is a mite predictable at times -- In the Fog proves a smart, thought-provoking antidote to Hollywood action movies.
Movie Info
Western frontiers of the USSR, 1942. The region is under German occupation, and local partisans are fighting a brutal resistance campaign. A train is derailed not far from the village, where Sushenya, a rail worker, lives with his family. Innocent Sushenya is arrested with a group of saboteurs, but the German officer makes a decision not to hang him with the others and sets him free. Rumours of Sushenya's treason spread quickly, and partisans Burov and Voitik arrive from the forest to get revenge. As the partisans lead their victim through the forest, they are ambushed, and Sushenya finds himself one-to-one with his wounded enemy. Deep in an ancient forest, where there are neither friends nor enemies, and where the line between treason and heroism disappears, Sushenya is forced to make a moral choice under immoral circumstances
News & Interviews for In the Fog
Critic Reviews for In the Fog
Audience Reviews for In the Fog
½
In occupied territory during World War II, Nazis execute a group of partisans who were possibly turned in by one of their one. Burov(Vladislav Abashin) figures the most likeliest informer is Sushenya(Vladimir Svirskiy), the one the Nazis let go. So, Burov decides to take matters into his own hands, while at least not killing his former comrade in front of his family. And that's when things get complicated. Being on somewhat unfamiliar cinematic ground, "In the Fog" gets off to a promising start. But that's before the movie spends most of its running time chasing its tail, instead of spinning a compelling and suspenseful story. That just goes to prove that the time and place for a philosophical discussion is not a war zone.
½
Has a lot in common with last year's bountiful imports "Once Upon a Time in Anatolia" from Turkey and "The Turin Horse" from Hungary, in that Russian writer-director Sergei Loznitsa's "In the Fog" is, if nothing else, PUNISHING AS ALL HELL to watch, and more than a bit of a slog to sit through. Easy to see why this didn't go over well with audiences in its native land (though ruskies of all people should theoretically have fallen hard for its pessimistic theatrics.) That being said, I think there's something to be admired in a film so disinterested in any sort of payoffs. Loznitsa opens "In the Fog" with one of many exquisitely excruciating long takes, following a row of P.O.W.'s during WWII being lead to their deaths by hanging, before finally settling the camera's gaze away from the action as we hear necks break against nooses and the movie bumps up the title card. It's wound with a suitably grim fuse, as "Fog" jumps gracefully out of narrative order to give us glimpses into the lives of a rail worker (Vladimir Svirskiy) and two soviet officers (Vladislav Abashin and Sergei Kolesov) preceding and succeeding the means to this gruesome ultimatum. Taking visual cues from the likes of Andrei Tarkovsky, Alexander Sokurov and even Romania's Cristian Mungiu, it's hard not to be impressed by the shear aesthetic ambition of Loznitsa's sophomore feature. "In the Fog" may be hard to love, but it's equally tough to shake. (77/100)
Nick Ondras
This compelling, intelligent, heart-warming drama directed by Sergei Loznitsa was a real flop in Russia. But this co-production between Belarus, Germany, Latvia, Netherlands and Russia had some success on the world scene - even competed for the Palme d'Or at the 2012 Cannes Film Festival and won the Golden Apricot at the 2012 Yerevan International Film Festival in Armenia. I can understand that in the modern times with lots of individuals with short attention span there will be limited number of those who will appreciate the slow tempo of storytelling, and this movie feels like it tells a story in a real time - like we are there. You can almost feel the cold, pain, love... everything from the screen is magically transferred to the audience! The director Sergei Loznitsa deserves praise. What a wonderful job he did. It wasn't an easy task to adapt Vasil' Bykaw's short story. Everything is happening in 1942 on the territory of Belarus occupied by the German army. The Germans face strong resistance from the Partisans and hatred of most of the local people, but there are people who work with the Germans, because there were tough choices to make. Sushenya is a track-walker arrested and then suddenly released after three of his co-workers were hanged for blowing up a German train. Two Partisans, one of them his close friend have an order to capture Sushenya and lead him to the forest where they have to shoot him as a traitor... but life has different plans! I haven't enjoyed such complex acting from the main characters for a long time. Vladimir Svirskiy as Sushenya, Vladislav Abashin as Burov and Sergei Kolesov as Voitik have three completely different characters and you could almost feel the way they think - they were working perfectly with each other to bring the feel of chemistry which is necessary for movies like this to feel real. And this one did! If you are a fan of an intense, slow-burning and haunting drama, pick this one.
In the Fog Quotes
There are no approved quotes yet for this movie.
Discussion Forum
Discuss In the Fog on our Movie forum!