Va, Vis et Deviens (Live and Become) (Go, See, and Become)
(2005)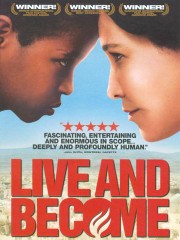 TOMATOMETER
AUDIENCE SCORE
Critic Consensus: Mihaileanu's story of an Ethiopian orphan's struggles overcomes an inflated length and script problems to explore universal issues of racial and religious identity.
Va, Vis et Deviens (Live and Become) (Go, See, and Become) Trailers & Photos
Movie Info
Cultural confusion and the lack of true identity plague a young boy swept away from his mother during a joint American-Israeli rescue mission in director Radu Mihaileanu's fact-based drama. As thousands of displaced Africans crowd into Sudanese refugee camps, American and Israeli troops organize "Operation Moses," a mission aimed at relocating the wandering Falashas to Israel. Forced by his Christian mother to declare himself Jewish in hopes of joining the exile and escaping a grim fate, young Solomon (Moshe Agazai) is swept away to Israel and adopted by a Tel Aviv-dwelling French Sephardic family and re-named Schlomo. Terrified of being revealed and shaken to the core by the radically different culture of Israel, Schlomo does his best to adapt to his new surroundings as his presumed salvation slowly gives way to the inner decay of a fading identity.
more
Cast
News & Interviews for Va, Vis et Deviens (Live and Become) (Go, See, and Become)
Critic Reviews for Va, Vis et Deviens (Live and Become) (Go, See, and Become)
Audience Reviews for Va, Vis et Deviens (Live and Become) (Go, See, and Become)
"Live and Become" starts in the 1980's as Ethiopian Jews are allowed to immigrate to Israel but first must complete a hazardous trek to Sudan, and many die along the way. Hana(Mimi Abonesh Kebede) survives to make it to a refugee camp, host to a mixture of religions, but her son does not. Wanting her son to live and thrive elsewhere, a Christian mother(Meskie Shibru Sivan) passes her son off as Jewish, giving him to Hana to take with her to Israel, where he is now known as Schlomo(Moshe Agazai). He is again abandoned in Israel when Hana succumbs to sickness. So, he acts out in school, even making a futile attempt to walk back to his home country and mother. In order to provide him stability, the authorities allow him to be adopted by Yael(Yael Abecassis) and Yoram(Roschdy Zem), a kind leftist couple.

"Live and Become" is an emotionally complex movie about identity that has a couple of false steps(literally) but otherwise smartly handles the material in epic style. And Israel, for better or for worse a country of immigrants and good intentions, is the perfect setting for such a thorough examination. Difficult as it is for immigrants to adjust to their new country, it does not help when there is resistance from those already there who might see them as either strange or invaders, not liking their skin color or language, even if they share the same religion.(Regardless, we are all the same.) Yael and Yoram handle this situation better than most, even if they may seem condescending at first, aiding Schlomo who is in a harder position than most. Their peaceful humanism contrasts with Israel's recent conflicted history.
It's not spectacular but has its moments. The characters are notably true to life. Although understated, what the film does manage to say is that religious and racial identities are never cleanly compartmentalized, and that while we can fight for those areas where we have crossover in hopes to feel a sense of belonging, we all share, always, that we are human and have the capacity to love.
Va, Vis et Deviens (Live and Become) (Go, See, and Become) Quotes
Discussion Forum
Discuss Va, Vis et Deviens (Live and Become) (Go, See, and Become) on our Movie forum!
News & Features