Val Lewton: The Man in the Shadows
(2007)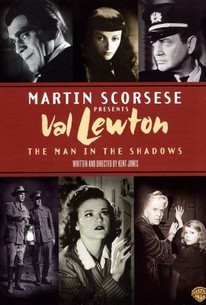 Movie Info
While his name was known to only the most obsessive film fans during the course of his career, Val Lewton produced a handful of low-budget horror movies in the 1940's that had a revolutionary impact on the genre. Working within a special production unit at RKO Pictures, Lewton's films were mood pieces that created an atmosphere of anxiety rather than aiming for blunt shocks, and used shadowy camerawork and careful pacing to infer more than the audience actually saw. Several of Lewton's productions became minor hits, most notably Cat People, and a number of others (including Isle Of The Dead, I Walked With A Zombie, Curse Of The Cat People, The Seventh Victim and The Body Snatchers) are cult favorites to this day. Lewton also discovered a number of directors who would become major players later on, including Robert Wise, Mark Robson and Jacques Tourneur, but Lewton's efforts to move on to bigger budget projects fared poorly, and poor health claimed his life in 1951, six years after his last picture for RKO. Film critic and archivist Kent Jones traces the story of Val Lewton's life and career while paying homage to the films that made his name in the documentary Val Lewton: Man In The Shadows, which features highlights from Lewton's best films while sharing the memories of those who knew and worked with him. Originally produced for the Turner Classic Movies cable network, Val Lewton: Man In the Shadows is narrated by filmmaker and lifelong film fan Martin Scorsese.
Rating:
NR
Genre:
, ,
Directed By:
Written By:
In Theaters:
On DVD:
Runtime:
Critic Reviews for Val Lewton: The Man in the Shadows
Audience Reviews for Val Lewton: The Man in the Shadows
[i]Val Lewton: The Man in the Shadows[/i] chronicles the life of low budget filmmaker Val Lewton, who is largely forgotten today, but is considered by many in the movie business to be a pioneer of storytelling, oftentimes creating films superior to the meager allowances tendered to him by the film industry. This documentary suggests that a lot of the films Lewton produced were semi-autobiographical in nature, oftentimes mimicking the discontent of their perpetually depressed creator. I'm not sure if I bought that argument, but this biography did persuade me in one very important way...it made me want to see more of Lewton's movies.
Craig Burgess
A fascinating documentary about one of the most underrated American filmmakers. It provides background on Lewton while examining each of his films. Scorsese is a superb narrator, the cinephile's companion through history, and the doc makes an essential companion to Warner's phenomenal Val Lewton Horror Collection DVD box.
Caleb McCandless
Never knew about this person or his legacy for a short career until I saw I Walked With A Zombie. Then found out about Scorsese and this documentary. So it was just something to add to the queue and get to, which I decided to finally get to. And this doc is very interesting. I am a little interested in a bit of old hollywood, but so much of it is crap. This, is a great story. But I can say that this is not the most engaging, but strays more toward the artful presentation. Just the final ?scene? of the doc is different from others. However it relies too much on just showing the clips, which I guess is predicated on the fact that Lewton never gave an interview. So, they had to try to get creative. So you need to be a fan of him, his movies, or old Hollywood to really like it. And even there, it can still be passed.
Lee B
Val Lewton: The Man in the Shadows Quotes
There are no approved quotes yet for this movie.