The Valachi Papers
(1972)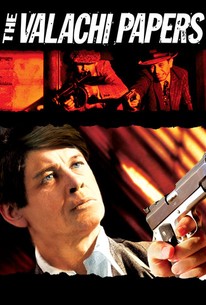 AUDIENCE SCORE
Critic Consensus: No consensus yet.
The Valachi Papers Photos
Movie Info
This provocative and violent crime melodrama offers a look into the realities of life in the Mafia as related to a Senate investigating committee by notorious stool pigeon Joseph Valachi. His story spans 32 years in his life as a mafioso.
Rating:
PG (Re-rated in 1974)
Genre:
, , ,
Directed By:
Written By:
In Theaters:
On DVD:
Runtime:
Studio:
Columbia Pictures
Critic Reviews for The Valachi Papers
There are no critic reviews yet for The Valachi Papers. Keep checking Rotten Tomatoes for updates!
Audience Reviews for The Valachi Papers
½
Before The Godfather fiction ever was thought of, there was this, the true story of the Mob in America. Based on a true story, a superb mafioso film and it betrays RT for its rediculous ignorance of this film, its critics especially. To have no professional reviews of this film is a disgrace. The first inside account of the Mafia in the 1960's, a disgruntled soldier in New York's Genovese Crime Family decided to spill his guts. His name was Joseph Valachi ... [img]http://t2.gstatic.com/images?q=tbn:ANd9GcTb_jWXzBg7flvrcfcIcbQoUZDuabrVMcHbBjH2otgfHQ6MrtKwqA[/img] Charles Bronson puts the finger on the mob Famed producer Dino DeLaurentis, notable for many wierd films like White Buffalo and the like, still came out with many more fine productions like The Valachi Papers. Take it to the bank, Dino DeLaurentis would bankrole many crazy films but this was not one of them. The Valachi Papers is a 1972 crime movie starring Charles Bronson and Lino Ventura and directed by Terence Young. Adapted from the book The Valachi Papers (1969) by Peter Maas, it tells the true story of Joseph Valachi, a Mafia informant in the early 1960s. [img]http://t1.gstatic.com/images?q=tbn:ANd9GcTw-FIgsp7d-F9FjDZT6bYuly9UQFdtrdsJHJHr4jYY6_V3oBEeEw[/img] The film is mostly told in flashback. Here, Valachi is working his up the mob organization Valachi mistakenly kills a fellow prisoner who he wrongly thinks is a mob assassin. Told of the mistake by federal agents, Valachi becomes an informant, mistakenly recognized as the first in the history of the American mafia. He tells his life story in flashbacks. The film was produced in Italy, with many scenes dubbed into English. The reason it was made in Italy was reported that the mob in America would not permit it to be made in the U.S. [img]http://t2.gstatic.com/images?q=tbn:ANd9GcTcW7nzBfB2q7GZPU__e3--A5zxdup-BjVhM4_Xb4TmyUjqPDbo[/img] SEE the entire film here: http://www.youtube.com/watch?v=xz62_PAwGmg REVIEWS: 90% This totally under-rated mob film is right up there with the best mob movies. Charles Bronson, although not italian, plays convincing role as mobster ... [img]http://t1.gstatic.com/images?q=tbn:ANd9GcRW7WAs3TGdkmnMiPTv4oeqYTHAPyKvAsFyR1cn3aG4hjvHdkUw[/img] NOTES: 1 Co-star Jill Ireland married Charles Bronson and produced at least one film of Charles later in his career. 2 A largely unremembered fact by most of RT's young members is that Joe Valachi blew the lid off American mafia history and at the time of the sixties was BIG news. The biggest whistle blower that ever came down the shoot, as they used to say. 3 The film departed from the true story of Joseph Valachi, as recounted in the Peter Maas book, in a number of ways. Though using real names and depicting real events, the movie also contained numerous events that were fictionalized. Cast Charles Bronson as Joe Valachi Lino Ventura as Vito Genovese Jill Ireland as Maria Reina Valachi Walter Chiari as Dominick Petrilli ("Gap") Joseph Wiseman as Salvatore Maranzano Gerald S. O'Loughlin as Ryan Amedeo Nazzari as Gaetano Reina Fausto Tozzi as Albert Anastasia Pupella Maggio as Letizia Reina Angelo Infanti as Lucky Luciano Directed by Terence Young Produced by Dino De Laurentiis Screenplay by Stephen Geller Massimo De Rita Arduino Maiuri Based on The Valachi Papers by Peter Maas Music by Riz Ortolani Cinematography Aldo Tonti Editing by Johnny Dwyre Monica Finzi Studio De Laurentiis Intermarco S.p.A Euro-France Films Distributed by Columbia Pictures (USA) Cinema International Corporation (worldwide) Sony Pictures Home Entertainment (2006, DVD) Release date(s) November 3, 1972 Running time 125 minutes Box office $17,106,087 $8,382,000 [img]http://upload.wikimedia.org/wikipedia/en/thumb/8/88/Valachi_papers.jpg/220px-Valachi_papers.jpg[/img]
monsieur rick
½
If you live by the knife and gun you die by the knife and gun. Joe Valachi is a sixty year old gangster in jail that just wants to be left alone and serve his sentence; however, there are those in the joint that want him dead due to past deeds. After a murder attempt leads to Joe killing a man, the police interrogate him about his life and Joe tells the amazing tale of his rise within the Italian mob, his connections, and how the entire outfit works. This is one of the first glimpses into the painful details of being in the mob. "I'm on the run." "I've got eyes." Terence Young, director of From Russia with Love, Dr. No, Thunderball, Wait Until Dark, The Frightened Bride, Storm over the Nile, The Secret Agents, and The Jigsaw Man, delivers The Valechi Papers. The storyline for this picture is okay and unfolds well. The conclusion is always in doubt but the film is a bit methodical and slow paced. The acting is average and the cast includes Charles Bronson, Lino Ventura, Jill Ireland, and Joseph Wiseman. "Even the windows have eyes." I recently DVR'd a bunch of Bronson films as his movies are always hit or miss, with his hits generally being very, very good and his misses being very,very bad. Overall, the movie is interesting and not a complete waste of time; but in all honesty, I wouldn't go out of my way to see this. This is a very average gangster film. "What kind of dummy are you?" Grade: C
Kevin Robbins
As a mob history lesson, The Valachi Papers gets a B minus, as a film it rates a solid C. The characters, especially the Italians, are reduced to thin characterizations. At times, its as though the Super Mario Brothers are recreating scenes from The Godfather or Goodfellas. The accents, and the mustaches, are just that cheesy. Still, Bronson presents an intriguing, albeit romanticized, representation of real-life mob hitman Joseph Valachi. It's interesting to note that the film's production had to be halted in the U.S. because it became too dangerous to continue. Apparently certain powerful entities didn't want the story told. It was completed in Europe.
Randy Tippy
Super Reviewer
The Valachi Papers Quotes
There are no approved quotes yet for this movie.
Discussion Forum
Discuss The Valachi Papers on our Movie forum!