Valentino: The Last Emperor
(2009)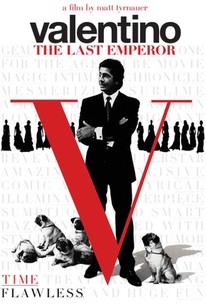 TOMATOMETER
AUDIENCE SCORE
Critic Consensus: Valentino: the Last Emperor utilizes its access to the fashion icon to the fullest, and the result is a glitzy, dishy, and insightful documentary.
Valentino: The Last Emperor Videos
Valentino: The Last Emperor Photos
Movie Info
"Valentino: The Last Emperor" provides a first-time glimpse into Valentino's world of bygone glamour. Filmed from June 2005 to July 2007, the crew shot over 250 hours of footage with exclusive, unprecedented access to Valentino and his entourage. The resulting non-fiction film is a portrait of an extraordinary partnership, the longest running in fashion, and a dramatic story about a master confronting the final act of his celebrated career.
Rating:
PG-13 (for some nudity and language)
Genre:
,
Directed By:
In Theaters:
On DVD:
Box Office:
$1,569,618.00
Runtime:
Studio:
News & Interviews for Valentino: The Last Emperor
Critic Reviews for Valentino: The Last Emperor
Audience Reviews for Valentino: The Last Emperor
Providing an alternative to the documentary The September Issue -- although the only thing they have in commom are some long montage sequences of clothing and models parading around. I was a fan of both films; but I think I ended up preferring Valentino simply because it made the man more accessible than September made Anna Wintour accessible. I would also prefer a live runway show as opposed to a model shoot and since Valentino has more of the former (September the latter) I will give it a higher grade. Valentino is more of a tribute to the iconic fashion designer and it shows how he has kept his point of view and integrity in a world of sell-outs. I think half of the movie could be looked at as a tragedy because the stylistic viewpoint of an artist is cast aside a lot of time in this world to become marketable on the world stage. Valentino, himself, hasn't compromised in anything he has done. He does bemoan the fact that he has given over creative control of Valentino to a new set of people; but he has retired and has to accept that the world of fashion is forever changing. The viewer is treated to some spectacular eye candy in this film and we are left in awe wishing we'd have been able to attend the finale gala in person (the camera actually probably doesn't begin to do the man's genius justice). We get so see the creative side of this Last Emperor and his personal side -- the filmmakers scored a rare coup here by allowing us to get so intimate with him. We also find out that Valentino would never show a woman's through her gown -- fascinating little bit of information, eh? He found it to be vulgar ... and looking back through his fantastic collections we see that he never did stray from that opinion. I find the female leg to be beautiful and am surprised that he -- one who designs for beauty -- finds this to be different. (It must be my leg fetish). What sets this film above some others is simply the amount we get to see here. Valentino is open and honest with the camera -- when he tires of the camera being in his face he doesn't put on a mask and pretend he is pleased with it. We see him warts and all; but his total honesty with us removes ALL of those warts. I am in awe of Valentino. The end of this film -- and the gala at the museum -- are some of the most beautiful filmed images I have ever come across; but I think clothing is just as beautiful as any piece of art I have seen hanging at the Louvre. This doc made the initial Academy short-list but didn't make the final cut. I had hoped that this one would make it because it shed some light on some mystery and genius. As it is -- it couldn't end up competing with The Cove so perhaps it wasn't destined for Academy gold; but to me, my praise is just as worthy. Anyone interested in fashion -- not the journalistic/editing point of view -- needs to give this movie a watch. You shouldn't be disappointed -- with his talent, this doc had a fitting title since "A god Amongst Men" might have been too upsetting for some.
Thomas Williams
½
This documentary about fashion designer Valentino Garavani is one of the highest grossing and most buzzed about documentaries of the year, and it?s been longlisted for the Documentary Feature Oscar category. The praise made it sound like something worth checking out, but I?d been pretty hesitant to do so simply because I frankly don?t give a damn about Valentino or about the world of fashion. But I saw this was a available for instant streaming on Netflix and I had a couple hours to kill, what did I have to lose? Not a lot really, this proved to be fairly watchable but it certainly didn?t make me care about or particularly respect its subject any more than I did before. The year in the man?s life which this chronicles proves to not be very dramatic, it?s just sort of a few typical days in the guy?s life and I suppose his fans will find it pretty revealing.
Forget September Issue, Valentino: The Last Emperor is the real about the fashion world to watch. Chiefly though Valentino is an engrossing character study of the man himself, his charms, huge ego and his unsurpasable talent.
Jeremy Smith
Super Reviewer
Valentino: The Last Emperor Quotes
There are no approved quotes yet for this movie.