Valley of the Bees
(1968)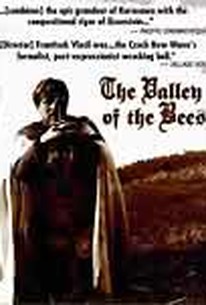 AUDIENCE SCORE
Critic Consensus: No consensus yet.
Movie Info
A young man is sent to live and study with a religious order when his father takes a young bride. When the son helps one of the noble knights at the order escape, he is expelled from the institution. His friends help the young man escape as well, and he takes over as his stepmother's lover when his father dies. ~ Dan Pavlides, Rovi
Critic Reviews for Valley of the Bees
Audience Reviews for Valley of the Bees
Valley of the Bees is a Czech film from 1967 that has inexplicably flown under the radar; inexplicably because it is simply one of the most fascinating films I've ever seen: poetic, somewhat surrealist, powerful, raw, and very ambiguous.
After a feverish episode of his childhood, Ondrej's father decides to send him off to join a stern and mysterious Christian order. Soon enough, the young man finds himself doubting these new rules and convictions forced upon him and decides to run back to his cloudy past, with his best friend -a pious, fanatic knight- on his trail.
Its beautiful black and white cinematography and composition make the film a sheer joy to watch. The visuals, of course, envelop the story in a distinct fairytale-ish haze, thanks to which it can be, at the same time, a believable portrayal of the Middle Ages (with its dirt, its strict religiosity, its disease), a photographic masterpiece, and a fable about individuality and faith. The performances are also worth mentioning: excellent acting from all parts, supported by a script that makes free use of metaphors (bees, bats, and hallucinations) but which remains comprehensible and sounds real in the lips of the characters. It's slow, but keeps a steady rhythm until the very end, and in what it reveals and conceals about its ambiguous characters it goes only far enough to keep our attention, never putting it too easy or being too hermetic. In a way, it's like the coming and going of the sea at the shore (watch it and you'll understand).
Overall, Valley of the Bees is so hypnotizing and it tackles on its subjects with such subtlety that whichever reflections it leaves by the end could easily go unnoticed by our conscious minds: it speaks of morality, faith, doubt, guilt, self-loathing, pride, despair, but not always directly, and it succeeds at orchestrating all these themes through its visuals.. A film entirely propelled by what enters through its audience's eyes: with a perfect balance between force and delicate mysticism in monochrome.
Valley of the Bees Quotes
There are no approved quotes yet for this movie.
Discussion Forum
Discuss Valley of the Bees on our Movie forum!