Vampire Circus
(1972)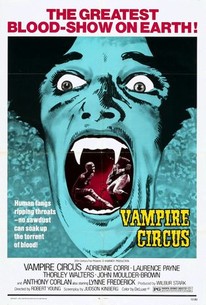 Movie Info
An interesting premise as a nineteenth century circus of vampires returns to exact revenge from a small town whose inhabitants killed an ancestor. Possessing the ability to transform themselves into animals, their revenge takes the form of death and mutilation.
Critic Reviews for Vampire Circus
Audience Reviews for Vampire Circus
½
"Vampire Circus" is, in my opinion one of Hammer's best vampire efforts outside of "Horror of Dracula," and "Dracula, Prince of Darkness." This movie has wonderful atmosphere, rather good special effects for it's day, effective performances, and a good plotline not to mention that classic, lush Hammer cinematography. This is a superior vampire story and it is handled well. ***Spoilers ahead*** The story opens when a man observes his young bride leading a child off toward the castle of Count Rittenhouse, a tyrannical ruler who is feared by all of his subjects. Alarmed, he summons the men of the village and finally persuades them to attack Rittenhouse and free the child. Apparently, this has happened more than once in the village as the men finally overcome their fears and agree to storm the castle. Once inside though, the men find that they have stumbled onto more than they bargained for. Count Rittenhouse is more than just a madman. He is a mad vampire. A battle ensues in which the men of the village finally get the best of Rittenhouse by staking him in the back. As the vampire lies dying, he pronounces a curse upon the village to the effect that the men who slew him will die, as well as their children, "to give me back my life." Fifteen years later, the Circus of Nights comes to town featuring a bizzare cast of characters and rather scandalous entertainment. By now the town has fallen under a plague connected with the curse of Count Rittenhouse and is quarantined by its fearful neighbors. The circus has supposedly come to bring life back to the village, although, as time goes on, we see that they have really come to bring death to the village, and life to a certain vampire lying in the ruins of his castle crypt. If you enjoy Hammer films or just vampire films in general, "Vampire Circus" is a must-see. For those of you who have seen it, it is well worth seeing again, although be warned, if you have never seen the uncut version, you might just be surprised. This movie was made when Hammer was going through its own sexual revolution and there are three scenes in which nudity is a factor although, in my opinion, "Vampire Circus" is not quite the "flesh-fest" production that "The Vampire Lovers" or "Countess Dracula" were. If you haven't seen this film, it's well worth the time. If you have seen it and don't remember it or you're afraid that it might not be as good as you remember, you've got a real treat coming.
David Ladd
Super Reviewer
Awesome Hammer is awesome.
One of my favorite Hammer films and possibly one of my favorite vampire moivies.
Vampire Circus Quotes
There are no approved quotes yet for this movie.