Vampire Clan
(2002)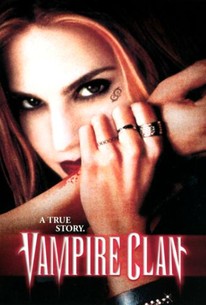 AUDIENCE SCORE
Critic Consensus: No consensus yet.
Movie Info
Director John Webb and screenwriter Aaron Pope translate the true-life story of a Florida family murdered in 1996 into a low-budget horror/crime film in their 2002 production Vampire Clan. The parents of two teenaged young women are found ritualistically murdered and the family's community is sent into an uproar with rumors of Satanic worship occurring in their midst. The authorities quickly track down the culprits behind the murders -- a group of teens that believe they are vampires -- and make the horrific discovery that one of the teens is one of the victims' daughters. As the police piece together the evidence, the daughter recalls the details revolving around her involvement with this group of so-called vampires and how the Charles Manson-like leader of the group chooses his followers. Vampire Clan received its premiere screening at the 2002 Dances With Films Festival.
Rating:
R
Genre:
, ,
Directed By:
Written By:
In Theaters:
On DVD:
Runtime:
Studio:
LionsGate Entertainment
Audience Reviews for Vampire Clan
Only people who like this kind of movie bother to watch and rate it. Personally, I can't tell you what compelled me to watch Vampire Clan back when I did, but even then I didn't think it was particularly good.
Nicole M
If this movie would've been fictional I don't think it would be nearly as likable, it would be just a bad vampire movie, but considering it was nonfictional I found it..interesting, it's impossible to be a "bad" vampire movie because it really happened.
Elizabeth Depp
Based on a true story: Quite disturbing, unnerving and mind-wrenching. How a bunch of misfits find each other and end up killing people. Its scary, because youll never know how many sickos there really are in this world. How could these teens have so much lack of better judgement?? For me I just think that this shows how being stupid can be scary. Theres a scene where I found myself very uncomfortable while watching a guy look up to another guy... and suck his blood with so much longing... Its... so... sick... I mean come on how many people have you met that looked up to someone else and followed them around like they were that persons pet dog? and perhaps thats the awkward truth with society, it happens everyday, just not this sick and twisted.. Anyway, 5 stars for making my skin crawl and wracking my brain. Additional Article links: How Rod Ferrell ended up being the youngest person in the United States on Death Row.

Court TV: Florida v. Rod Ferrell- "The Vampire Cult Slaying Case"