The Vampire Lovers
(1970)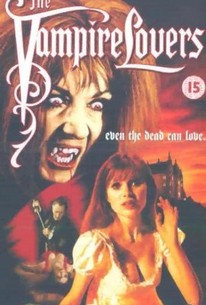 The Vampire Lovers Photos
Movie Info
This sexy horror story from Britain's Hammer Films finds Ingrid Pitt playing three roles, the most notable being a lesbian vampire who will resort to biting a man only when it is absolutely necessary. A doctor and a manservant are victims, but only after she has exhausted all attempts to sink her fangs into the bosoms of young women. The General (Peter Cushing) finds his daughter Laura (Pippa Steel) is victimized by the bite of the vampiress. With the help of Baron Hartog (Douglas Wilmer), they try to end the horror brought by the blood-sucking beauty. Blood, gore and a few decapitations are depicted before the wooden stakes and crosses are brought out. ~ Dan Pavlides, Rovi
News & Interviews for The Vampire Lovers
Critic Reviews for The Vampire Lovers
Audience Reviews for The Vampire Lovers
½
The Vampire Lovers is an underrated vampire yarn that is well acted and directed. The film owes its success to its atmosphere, which adds so much to the tone of the film. Director Roy Ward Baker has picked a fine cast of talented actors, including Hammer horror icon Peter Cushing, who gives a standout performance. Ingrid Pitt is wonderful as well, and this film will certainly give genre fans something worthwhile to watch. Although not perfect, this is a vampire film the wait it is meant to be. The story is quite good, and well layered, and like I said, the film is underrated and it doesn't deserve the flack it has received. There are enough tense, atmospheric scenes throughout the film that will certainly keep you on the edge of your seat. This is a fine film that is worth checking out and Hamer horror enthusiasts should seek this one out as it is an overlooked film that hasn't gotten the recognition it deserves. This is among the best vampire films in the genre, and it belongs on the short list of must see vampire licks. The tone and atmosphere of the film sets this one apart from others, and there is a constant feeling of dread on-screen, and it adds so much to the film. Add to that menacing performance of Pitts and you have a highly entertaining horror film that has enough chills to appeal to genre fans. This is a surprising film that relies on a good story, effective visuals to create the chills on-screen. Roy Ward Baker crafts something unique here, and I think this title has been overlooked and it really deserves a second chance. This is horror in its basic form, and it uses it to9 its advantage to create something entertaining and bone chilling all at once. This is what horror is supposed to be and if you're looking for a good vampire film that delivers terror, then give this one a shot. There is romantic overtones throughout the film and it sets this film apart from others in the genre. The Vampire Lovers adds sensuality to its imagery, and it creates something riveting and ultimately exquisite in the process.
Vampire Lovers is a particularly fine example and a cultural milestone that heralded the arrival of vampyric characters as being romantic, charismatic and seductive. For all the strength of the cast in this film ? George Cole and the always great Peter Cushing, for all it's whimsical, dreamlike eroticism and relatively slick execution this film rises head and shoulders above its peers solely by virtue of it's leading lady. Essentially defining the vampire for the generation of films that would follow Ingrid Pitt carries the cast and production effortlessly on a tide of charisma, charm, grace and almost preternatural beauty. While this film is undoubtedly exploitative and resolutely sexist, it manages to inadvertently empower it's female lead albeit at the cost of the bevy of blushing, fainting beauties who line up only to fall under her spell. The patriarchal men who populate the film, dotting about looking worried, grumpy and pallid, just look pathetic next to the animalistic, virile goddess squaring up against them. As they cower behind their trinkets of religion, powerless to stop their women being spirited away, we inadvertently begin to side with the vampires. Just observe the scene where Ingrid's Carmilla bears down on the young buck who storms in to rescue the dizzy young virgin from our anti-heroine's clutches: Is it me or does the phallic sword that he wields seem to droop slightly as she surges down the stairs towards him? Weight is lent to Ingrid's performance not only by her almost unbelievable natural charisma, but also by her acting abilities. This woman possessed more talent than the horror genre often asked of it's ladies - Check her out working the subtle nuances of her craft as the spectre of a smile creeps across her face on hearing that she is to be taken in by yet another unsuspecting band of aristos. Also fantastic is the scene where a couple of male characters discuss the fact that the predator amongst them is a woman? 'an extremely beautiful woman'. We are then treated to a quick cut-away to Ingrid sitting in a chair managing to look haughty, sexy, smug, dangerous, seductive and powerful all at the same time. The film's much vaunted eroticism, through solely projections of male fantasy, are undoubtedly stirring. Ingrid's seduction of Madeline Smith when she chases her round the room before falling onto the bed alongside her is as erotic as anything I have seen on screen and the real life revelations that, at the time the film was made Madeline was a virgin, while Ingrid was almost certainly not, make it all the more intoxicating. That Ingrid did not go on to achieve greater success as an actress is a sin, after all she was (and is) a fine actress and surely one of the most beautiful women alive. That she went on to have a successful writing career and continues to be worshiped by a legion of fans is understandable. To conclude Vampire Lovers is a great film from the latter days of Hammer studios and worth seeking out
David Ladd
Super Reviewer
The plot synopsis here is actually rather misleading, as the film is more subdued sexually than one might assume. It's also a fairly close retelling of Le Fanu's Carmilla.
The Vampire Lovers Quotes
There are no approved quotes yet for this movie.