Vampires
(2010)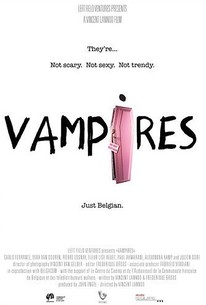 AUDIENCE SCORE
Critic Consensus: No consensus yet.
Movie Info
They did it! They made a documentary on a bunch of vampires! A family of vampires, bored with immortality, lives in Belgium, eats illegal immigrants, children, handicapped folk, and takes every advantage they can suck out of the country's social system. Samson, a seventies throwback, lives his 55th year like he's forever 20. Grace, an eternal teenager bent on being human again, keeps committing suicide. George, the patriarch, manages as best he can, heading the eccentric family and its on-going squabbles with the neighboring vampires. It turns out vampires must keep to a strict code. They are, for example, prohibited from sleeping with their leader's wife. That's where Samson went too far... Now he and his whole family are exiled to Quebec, where even vampires have to work for a living! -- (C) IFC
Critic Reviews for Vampires
All Critics (1) | Fresh (0) | Rotten (1)
There is the occasional dark, droll observation, but when they try to wring an actual plot out of the material we are thrust into a long, final stretch that feels like an extended what-are-they-doing-now epilogue from Christopher Guest's movies.
Audience Reviews for Vampires
½
I may not have said this recently, but I really fucking loved What We Do In The Shadows. It truly is a tremendous comedy through and through. So this movie, despite coming out some 4-5 years earlier than What We Do, really reminds me of that. Well, with one exception and that is that this movie, honestly, just isn't good. And I'm not saying that this is a bad movie or anything of the sort, but it's just not as interesting of a movie as one would have imagined it might be considering the fact that it's a mockumentary, a la Christopher Guest's films, around a vampire family. The difference between this and Guest's mockumentaries is, really, simply the fact that there's no real narrative to speak of. And I'm not saying that the narratives are amazing in Guest's films, but there's clearly a reason for everything that is happening and the characters have clearly defined motivations. The film's events guides them towards that goal, with absurdities along the way, but it does guid them there. This movie, sadly, doesn't really have that going on at all. I don't wanna say that nothing happens, because you do get to see the vampire community and how the rules of their society work. That adherence to establishing a mythology around these characters was one of the coolest things, for sure. But I just wish they could have spent a longer time putting together an actual story. There's some elements, like how Bievenue and Elisabeth, forced to live in the family's cellars due to their not having a child, one of the rules is you must a child to be allowed to own a home, trying to conspire against the family at every turn. That's about it really and even then, it's not like the movie focuses entirely on this one aspect. They do throw in some potentially really racist humor, but I feel that it's there mostly as social commentary at Belgium's treatment of those they deem 'undesirable' and how they're dropped off by the government in order for the family to feed on them. That was, again, cool to me. Some people might be offended by it, particularly when they try to play this off for humor, but it's more critical of Belgium more than anything else. But, like I said, the movie is just missing a certain element that would have pushed it to a good level. At least to me. And I honestly didn't find the film that funny. It has its moments. Like the daughter in the vampire family trying to commit suicide every chance she gets and failing miserably at it. The film has an obvious dry sense of humor. But just because humor is dry that doesn't make it funny. I think a lot of people might believe that, but it's just not the case. And this is proof positive of that. Though, of course, this isn't the worst example of this and it's not even close. It's just sporadically funny and the stuff that doesn't work isn't offensively unfunny. The performances are more than solid, for sure, so no complaints there. The film's last 30 minutes or so, when the family are exiled to Canada due to Samson sleeping with the vampire leader's wife, are easily the most interesting. And it's just a shame that they didn't want to make this a bigger part of the movie. Because you could have established the privileged lifestyle they led in Belgium and then forced them to leave and see how they would adapt to the changes. They do that, but it's disappointing. This really is just an average movie at best. It has its moments and it's definitely well-made, but it doesn't really have much going on in the way of a narrative, so watching it feels pointless for the most part. Not bad or anything, just pointless. What We Do In The Shadows is much better, but this one has some good ideas. Just not enough to warrant an actual recommendation. Average movie at best.
Jesse Ortega
Super Reviewer
Vampires Quotes
There are no approved quotes yet for this movie.
Discussion Forum
Discuss Vampires on our Movie forum!