Vamps: Deadly Dreamgirls
(1996)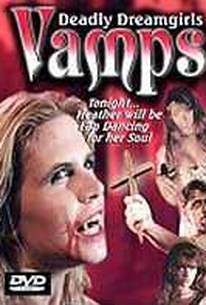 AUDIENCE SCORE
Critic Consensus: No consensus yet.
Cast
Critic Reviews for Vamps: Deadly Dreamgirls
Audience Reviews for Vamps: Deadly Dreamgirls
½
This had possibly the worst editing I've ever seen, and the sound quality was not much better, but there was something endearing about this Z-grade movie that sets it apart from the rest. The scenes between Heather and the priest were cute, the fight scenes weren't too bad, and the cover evokes images of Sleepaway Camp (which is never a bad thing). But I'm sad to say I just discovered the lovely Lorissa McComas is no longer with us. She will be missed.
Jeff B
[b][font=Comic Sans MS][size=4]Vamps: Deadly Dreamgirls(1995) :rotten: :rotten: :o :eek: :eek: [/size][/font][/b] [font=Comic Sans MS]Yet an-udder limp, pointless, straight-to-video T&A jigglefest masquerading as a horror film - why don't these people just go ahead and make a porno?? [b][size=4]:=8/[/size][/b] In which a handsome young priest [i]who cowlects horror moovie trinkets[/i] find his young, busty, blonde friend [b]stripping in a skeezy club[/b] run by a cabal of amatuer vampire vixens who can't keep their Miracle Bras strapped on. Ok, admittedly, that actually [i]sounds[/i] fairly promising, but [b]Vamps[/b] does not deliver the goods. Straight-to-Video is always the mark of quality...[/font] [font=Comic Sans MS][/font] [font=Comic Sans MS][size=4][b]:=8P[/b][/size][/font] [font=Comic Sans MS][/font] [font=Comic Sans MS]Anycow, aside from a bunch of giggling jigglers, this turkey features bad sound, uninspired direction, very amateurish performances, and some of the dopiest original moosic this Cow has herd in quite some time. The whole herd howled over such absurd dialogue as "This dude is food!", and udder such tidbits. [b]Vamps[/b] is a slight cut above udder entries in the [u]Tasteless T&A Jigglefest-Horror[/u] genre (say, [b]Cannibal Hookers[/b], for example), but only just. Nonetheless, these deadly dreamgirls cud only be truely enjoyed by pimply-faced 14 year-old metalshop geeks with long, feathery, greasy hair, wearing filthy Pantera tour tee-shirts. You know the type... [b][size=4]:=8P [/size][/b] Yep, you know you're in for it when the main character of the flick, in this case a [i]PRIEST[/i], not only cowlects horror memorabilia, but also porn magazines, and frequents sleazy strip clubs. You may not need 37 showers after watching this skeezy flick, but you'll probably need at least one. The vampire babes do show off their "ample talents" (none of which includes acting), which should at least keep the majority of viewers from snoring too quickly. Lorissa McComas (the Vampire Queen) has starred in a whole herd of stinky jigglers, including [b]Bare Essentials[/b], [b]Caged Women II[/b], and [b]Killer Sex Queens from Cyberspace[/b], not to mention being a Playboy Playmate of the month. Yep, that resume shoul get her into a Bergman film anytime now... [b][size=4]:=8/[/size][/b][/font] [font=Comic Sans MS]Rounding out the bimbo brigade is Amber Newman (Randi), an-udder jiggler sporting a fat resume of sleazy soft-porn films pretending to be horror, including such choice titles as [b]Lust for Frankenstein[/b], [b]Sex Files: The Sexual Matrix[/b], and [b]Dungeon of Desire[/b]. in 2003, she returned in [b]Blood Sisters: Vamps 2[/b], as the [i]identical twin sister[/i] of the vamp tramp in the [u]first[/u] flick! Sheesh![/font] [font=Comic Sans MS]Tacky, unoriginal, and simply [b]BAD[/b], the MooCow says give these busty bimbo biters the heave-ho. [b][size=4]:=8/[/size][/b] [/font]
MooCow Moo
Discussion Forum
Discuss Vamps: Deadly Dreamgirls on our Movie forum!
News & Features