Vampyros Lesbos (Lesbian Vampires: The Heiress of Dracula)
(1970)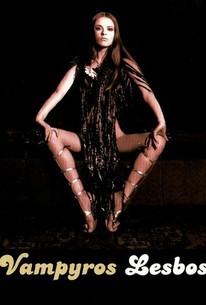 Vampyros Lesbos (Lesbian Vampires: The Heiress of Dracula) Photos
Movie Info
In this arty horror film, American Lucy Westinghouse works in a Turkish legal firm. Lucy is thrilled by a series of erotic dreams concerning a mysterious vampire woman. When she travels to an island to settle Princess Korody's inheritance, Lucy recognizes the beautiful woman as the vampire from her dreams.
Critic Reviews for Vampyros Lesbos (Lesbian Vampires: The Heiress of Dracula)
Audience Reviews for Vampyros Lesbos (Lesbian Vampires: The Heiress of Dracula)
A enjoyable and sensual watching with visible fake blood, some exaggerated interpretation and all the kitsch a B movie type can offer. Different from what you would expect of any vampyre movie, in Vampyros Lesbos most scenes are in a sunny and paradisiac outside and the plot is insteresting, playing with "reality" and imagination. *Soledad Miranda was terrific beautiful.
Rubia Carolina
Super Reviewer
½
This film exploring erotic obsession is among the more famous and respected of prolific Spanish director Jesus Franco, who is also known for his "bad taste." Falling somewhere between arthouse and grindhouse, it's too trashy for some while too personal or difficult for others If you are a Franco fan, you know this one already. The film has a huge cult following and deservedly so. A good example of 1970s-era Euro-Horrotica. If you have been thinking of seeing your first Franco film, this is a good choice.
El Hombre Invisible
Super Reviewer
This a unique movie for 3 simple reasons: -Soledad Miranda is so damn hot she could melt the poles in minutes (a shame she passed away so early) -Jess Franco always creative camera work -One of the most, if not the most, psychodelic soundtrack mankind has recorded Franco was a soft-core director, no questioning there, but with a sharp eye for exotic visuals. If you want some euro-trash-camp that is both delirious and fun to watch don't hesitate to get this one.
Tsubaki Sanjuro
Super Reviewer
Vampyros Lesbos (Lesbian Vampires: The Heiress of Dracula) Quotes
There are no approved quotes yet for this movie.