Vehicle 19
(2013)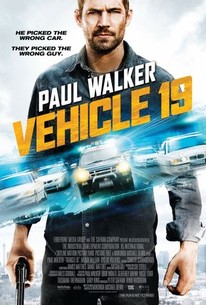 TOMATOMETER
AUDIENCE SCORE
Critic Consensus: It starts with an interesting premise and Paul Walker is as handsomely brooding as ever, but Vehicle 19's incoherently shot action sequences make it a poor substitute for his work in the Fast & Furious movies.
Movie Info
A recently paroled man unwittingly picks up the wrong rental vehicle, having just got off a long haul flight. He soon realizes that he is the target of an entire police force that will use any means necessary to stop him and the tied up female "passenger" he discovers in the trunk, from getting to the courthouse to testify against top-to-bottom local corruption. (c) Ketchup Entertainment
News & Interviews for Vehicle 19
Critic Reviews for Vehicle 19
Audience Reviews for Vehicle 19
I am usually a fan of Paul Walker films, and I even have a soft spot for most of the bad ones, but not even he could save this film. Having just a terrible script, there was not much for him to work with here, and taking place entirely in one vehicle you would think that would have some sort of intensity to it. Paul Walker is not the greatest actor in the world, but he always gives his all, and because he does in this one, the script makes him look awful. I will admit that any filmmaker that agrees to make a one-location film takes a lot of guts and I admire that, but it doesn't work in this case. Some of the action scenes are exciting, but the second you hear dialogue you will want to vomit. "Vehicle 19" is a mess that really goes nowhere by the end. The only redeemable factors are it's short run time and it's well-executed action; However, the film surrounding those elements is one of the laziest I have ever seen.
MisterYoda ?
Super Reviewer
I really didn't know anything about Vehicle 19 before seeing it, and it had all the standout aspects of being a great action film. Unfortunately it falls short due to a somewhat clichéd script, bland acting and uneven directing. This film should have been better, but it ends up being a mediocre one at that. Vehicle 19 should have been a good little B movie, but instead it just ends up being a clunky actioner with no real substance. I thought it started off well, but it ended up being a poorly crafted action film that just didn't deliver anything remarkable. I really wanted to get into the film, but it just fell short on so many levels. Paul Walker seems like he's overdoing it here, and he just fails at delivering something that is actually worth watching. Vehicle could have been a great movie if the script would have been better and the action sequences better thought out. There are parts of the film that are interesting, but they aren't significant to make this a film worth seeing. If you love Paul Walker, you may enjoy this, but I thought this was a mediocre film and one that wastes its potential on such a poorly written script. If you want Paul Walker's best films check out Running Scared or Joy Ride instead of this film. I was very much disappointed by this film, and it could have been a much better film if the script and cast were thought out a bit more. The actors simply don't have any screen presence and they just overdo their performances and that just ends up being a tiresome affair. Vehicle 19 is stand B movie fair, and kit never has anything to really make it standout.