Venus And Serena
(2013)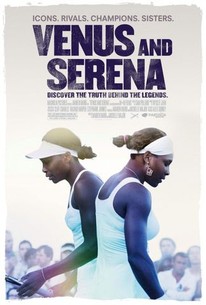 Movie Info
Venus and Serena takes an unfiltered look into the remarkable lives of the greatest sister-act professional tennis has ever seen. In a sport where they were not welcomed, the indomitable Williams sisters faced the opposition with grace and courage not only breaking new ground for female and African American athletes everywhere, but dominating the women's game for over a decade. The film tells the inspiring story of how these two women, against all odds, but with the help of visionary parents, made it to the top. Venus and Serena also explores the struggle of these two aging superstars during the 2011 tennis season as they battle life and career-threatening health problems. In Venus and Serena we gain unprecedented access into the sisters' lives - both in the spotlight and behind closed doors - and we watch as they draw their greatest strengths from one another to overcome countless adversities. (c) Magnolia Pictures
News & Interviews for Venus And Serena
Critic Reviews for Venus And Serena
Audience Reviews for Venus And Serena
One of the best sports documentaries I have seen in the past few years. The story behind Venus and Serena is so unbelievable that it translates into an amazing film!
Jim Larrison
It's hardly any kind of documenting masterpiece, but as a fan of the Williams sisters and as a tennis fan, I thought this was both informative and entertaining. I was rarely ever bored, and the documentary kept up a great pace, switching between their initial training and the challenges they have been facing recently. I wish there had been more footage and time dedicated to their teenage years, but regardless, it's still a balanced and highly entertaining documentary that any tennis player should watch.
Alex Mazzeo
Venus and Serena is a thorough documentary on the two Williams sisters who have changed the face, image and sport of tennis forever (plus some). The first-time directing duo, Maiken Baird and Michelle Major, wisely decide against focusing their film on just one sole facet of the divinely talented sisters' lives or careers on the court(s) -- be that (1) the sheer number of un-matched wins throughout their careers; (2) their visionary and unorthodox father-slash-coach, Richard Williams, who had decided one day long ago that his two daughters were going to play tennis (unbeknownst to the girls); or (3) the girls' rise to the unlikely ranks of world champions in a predominately country club sport that was rather unwelcoming to two young African American girls from Compton. The viewer is reminded of many of the two sisters' accomplishments ranging from early wins at clubs or school events to their high profile victories at prestigious international ones such as Wimbledon, the summer Olympic Games (from 2000 to 2012!), and the British and the Australian Opens. The documentary was partially filmed during the 2011 tennis season which was a year neither athlete was at the top of her game as they are both aging -- for the most part, the grueling sport of tennis is a younger person's game although the sisters are still feared by nearly everybody facing them on the opposite side of a net -- and both had possible career-threatening health problems. But as all have learned who have faced off against one of the Williams sisters, they should NEVER be counted out. The sisters are remarkable athletes and their accomplishments are awe-inspiring and many ... which in turn makes a simply ordinary documentary -- which is perfectly fine, though -- seem slightly inadequate.
Thomas Williams
Venus And Serena Quotes
There are no approved quotes yet for this movie.
Discussion Forum
Discuss Venus And Serena on our Movie forum!