Venus in Fur
(2014)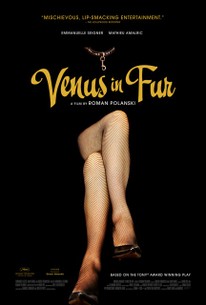 Movie Info
Based on the Tony Award-winning Broadway play by David Ives, which itself was based on Leopold von Sacher-Masoch's groundbreaking novella, VENUS IN FUR is the latest film from master filmmaker Roman Polanski. Alone in a Paris theater after a long day of auditioning actresses for his new play, writer-director Thomas (Amalric) complains that no actress he's seen has what it takes to play the lead female character: a woman who enters into an agreement with her male counterpart to dominate him as her slave. Thomas is about to leave the theater when actress Vanda (Seigner) bursts in, a whirlwind of erratic - and, it turns out, erotic - energy. At first she seems to embody everything Thomas has been lamenting. She is pushy, foul-mouthed, desperate and ill-prepared - or so it seems. When Thomas finally, reluctantly, agrees to let her try out for the part, he is stunned and captivated by her transformation. Not only is Vanda a perfect fit (even sharing the character's name), but she apparently has researched the role exhaustively, learned her lines by heart and even bought her own props. The likeness proves to be much more than skin-deep. As the extended "audition" builds momentum, Thomas moves from attraction to obsession until, with Vanda taking an ever more dominant role, the balance of power shifts completely. (C) IFC
People Who Like this movie also like
Cast

News & Interviews for Venus in Fur
Critic Reviews for Venus in Fur
Audience Reviews for Venus in Fur
½
A darkly erotic film about an actress auditioning for a role in a play, based on the classic novel by Leopold von Sacher-Masoch. The play is being directed by the playwright who, in the opening scene complains loudly to someone on the phone that he cannot find anyone right for the part. In walks Vanda and what ensues is a cat and mouse game as Vanda slowly takes control of the audition, the play, and eventually, the playwright himself. Only the two actors ever appear on screen, but the interplay is electrically charged as we watch Thomas give up control to Vanda. I was fascinated to watch it unfold. By the end, the viewer is left questioning just what happened.
Mark Abell
Super Reviewer
½
A writer/director who is auditioning actresses for the lead in his play about an S&M relationship meets an actress who epitomizes the same dynamic. This film is off the hook. There are times when the film had me completely seduced and captivated, but then it would take a left turn, and I had to decide whether to follow it or not. This pattern repeated throughout the film's action until the climactic moment when it got too extreme and ridiculous. I think we need to know the answers to some of Thomas's questions: how does Vanda know the script? What is her relationship with his wife? What are her real motives for being there? Her answers to these questions are dubious, and we're not sure she's trustworthy, but I needed more. The performances by Emmanuelle Seigner and Mathieu Amalric are excellent, and it takes excellent performances to make a two-hander work. Overall, there's a lot to like about this film, and it takes courage to like it.
Jim Hunter
Super Reviewer
David Ives' stage play seems tailor made for Roman Polanski. Claustrophobia, erotic tension, role games, submission and offbeat idiosyncratic humor, in tone with his early films like Knife in water and cul-de-sac, minus their uniqueness.
Pierluigi Puccini
Super Reviewer
Venus in Fur Quotes
There are no approved quotes yet for this movie.