The Vertical Ray of the Sun (At the Height of Summer) (Mua he chieu thang dung)
(2000)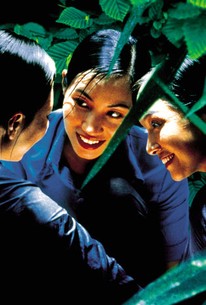 The Vertical Ray of the Sun (At the Height of Summer) (Mua he chieu thang dung) Videos
The Vertical Ray of the Sun (At the Height of Summer) (Mua he chieu thang dung) Photos
Movie Info
The third feature from Tran Anh Hung, the Vietnamese director of The Scent of Green Papaya and Cyclo, A La Verticale de L'Ete charts a few weeks in the lives of three closely-knit sisters living in Hanoi. Suong (Nguyen Nhu Quynh), the eldest sister, runs a restaurant where she employs her youngest sister, the 23-year-old Lien (Tran Nu Yen Khe) as a waitress. Their middle sister, Khanh (Le Khanh) is newly-pregnant and happily married, and, along with their brother, Hai (Ngo Quang Hai), joins the others at a celebration to mark the anniversary of their mother's death. At the celebration, which takes place at Suong's restaurant, it becomes apparent that, although close, the sisters have secrets they keep from one another. Both Suong and Khanh quietly suspect their respective husbands of infidelity, a reasonable suspicion in Suong's case, as her spouse has a second wife and family outside of the city. Meanwhile, Lien, a laid-back romantic, lives with her brother, with whom she shares an almost unnaturally-close bond and to whom she compares potential suitors. Emotional tumult ensues as the desire to maintain appearances grows stronger.
Critic Reviews for The Vertical Ray of the Sun (At the Height of Summer) (Mua he chieu thang dung)
Audience Reviews for The Vertical Ray of the Sun (At the Height of Summer) (Mua he chieu thang dung)
The Vertical Ray Of The Sun is a superb drama about three sisters and their day-to-day lives from the director of The Scent Of Green Papaya and Cyclo - both of which were also great films. It's also another shining example that has convinced me that I should check out more Vietnamese films, because clearly I have missed out on a lot if this is among films from the country. The plot follows three sisters: Suong, who is the oldest and is married to a photographer named Quoc who has a rather shady secret hidden from his wife and son, Khan who is married to a writer named Kien who is trying to finish a novel, and Lien, who is the youngest sister who doesn't know what to do with her life since she is living with her brother (And everyone thinks they're a couple). Every year on the anniversary of their mother's death, they gather together with friends and family to honor their mother's memory while also coming together to talk about how their lives are going at their family-owned cafe. After one anniversary celebration, things become rather complicated among the three sisters as their lives take drastic turns and secrets are uncovered in regards to spouses and even each other. While the film's plot may have familiar elements, never does the drama and human emotions become overwrought and cheesy. The plot is rather skillful in how it constructs these characters and makes them all feel alive and makes the viewer really feel like they're suffering with them, laughing with them, and everything in between. It also shows the viewer the complexities of life itself, and how everyone is hiding a secret of some sort. There are no simple solutions, no simple happily ever afters, no decisive way to go through life - in short, how life itself is. This is quite rare in films and this is one of the rare films to truly capture it. The acting also expertly works in tandem with the script, since every actor managed to add even more depth to their characters because of their abilities. This adds a new layer to the characters, especially with subtle expressions so carefully conveyed. They feel and act like real people as they struggle with what life throws at them. Of the course, the actresses playing the three sisters steal the show and you grow to care about these sisters through whatever they go through. On top of having a great story and great acting, the film is also beautifully directed and it takes its time in developing these elements. It's a slow-paced film, but I prefer my dramas that way, especially with ones that have such deep characters who are so interesting. I wasn't bored for one minute watching everything unfold and I was engaged the whole time since the film held a wealth of dramatic depth. If you love a good drama and a good art house film, The Vertical Ray Of The Sun is certainly a must-see for its superb story, stunning acting, beautiful direction and visuals, great music, and great everything in between. It's an expertly crafted drama that never pours on syrupy nonsense, but makes every interaction and every feeling conveyed feel real. I highly recommend it.
Keenan Sullivan
Most beautifully paced film I've seen. Gleaming wet verdant Ho Chi Minh City in its steamy, languorous glory.
Jason Hirthler
A beautiful, intensely satisfying look at love and family. Breathtaking work of tranquility and harmony, even while the lives of the characters are thrown out of balance. Tran seeks out beauty wherever he can find it -- in faces, in food, in nature, in walls and ponds and rainstorms. Beauty in mood and music and emotion, and in family. It's intoxicating and mellowing, and feeds the heart.
Martin Teller
The Vertical Ray of the Sun (At the Height of Summer) (Mua he chieu thang dung) Quotes
There are no approved quotes yet for this movie.
Discussion Forum
Discuss The Vertical Ray of the Sun (At the Height of Summer) (Mua he chieu thang dung) on our Movie forum!