Vertigo
(1958)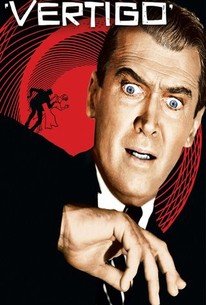 Movie Info
Dismissed when first released, later heralded as one of director Alfred Hitchcock's finest films (and, according to Hitchcock, his most personal one), this adaptation of the French novel D'entre les morts weaves an intricate web of obsession and deceit. It opens as Scottie Ferguson (James Stewart) realizes he has vertigo, a condition resulting in a fear of heights, when a police officer is killed trying to rescue him from falling off a building. Scottie then retires from his position as a private investigator, only to be lured into another case by his old college friend, Gavin Elster (Tom Helmore). Elster's wife, Madeleine (Kim Novak), has been possessed by a spirit, and Elster wants Scottie to follow her. He hesitantly agrees, and thus begins the film's wordless montage as Scottie follows the beautiful yet enigmatic Madeleine through 1950s San Francisco (accompanied by Bernard Herrmann's hypnotic score). After saving her from suicide, Scottie begins to fall in love with her, and she appears to feel the same way. Here tragedy strikes, and each twist in the movie's second half changes our preconceptions about the characters and events. In 1996 a new print of Vertigo was released, restoring the original grandeur of the colors and the San Francisco backdrop, as well as digitally enhancing the soundtrack. ~ Dylan Wilcox, Rovi
News & Interviews for Vertigo
Critic Reviews for Vertigo
Audience Reviews for Vertigo
A cop who's recently retired from the force because he suffers from vertigo takes a job trailing an old college friend's wife and grows obsessed with the mysterious woman. A masterpiece of dizzying psychological depths.
½
Although I did find that the story told through this film was incredible, it did feel a tad slow at times, almost bridging on the fact that it is a Hitchcock film so nobody should worry. However, that is exactly the case here. Hitchcock is such a master class that you need not worry about this film dragging on too long, because there is a reason it does that and the conclusion is more than satisfying. I loved my experience watching "Vertigo", it just felt like it took a bit too long to get to the point. From the screenplay to the acting, the overall atmosphere of this film screams brilliance. It's not the type of film to watch over and over again. But it is surely a film that can be recommended over and over again to those who have not yet seen it. It is not at the top of Hitchcock's masterpieces, but it tries very hard to get there. "Vertigo" is surreal at times, and I loved it for that!
½
One of the better known Hitchcock films; it has a long and strenuous history as well as a legacy unlike many of his other films. In part this is probably because Hitchcock made this film very personal, and made it his mission to indelibly link it to himself. The film is based on a book by two of his favorite writers, it takes on a psychological problem among scores of real people, and it has a great twist that makes it iconic. Unlike some of Hitchcock's previous films, this one takes a decidedly mature look at murder. Not that films such as "Rear Window" and "The Man Who Knew Too Much" didn't seem devilish, but there's something so methodically torturous about the psyche of the main character that it makes it stand out from his previous films. "Psycho" would be the only true rival to this film, though this one feels more like a passion project than the former. When this film was initially released it didn't do well with box office figures and certainly not with the critics. Most of the criticism attributed to this film has to do with the choice in cast. James Stewart was a powerful and interesting collaborator with Hitchcock throughout both of their careers, but at the time he was pushing fifty and having a 24 year old love interest (Novak) as the femme fatale seemed a little too overboard for most audiences. This doesn't really bother you as the viewer though, because the character of Judy seems too needy and unloved, so that Scottie's (Stewart) admiration for her only shows her true colors. Scottie loving Madeleine only shows her inherent beauty and youth. Scottie's vertigo isn't used in every juncture of the film, but it is used as a pivotal piece of the plot, and remains one of the better Hitchcockian twists in any film. Everything about this film feels a bit off, mostly because it is dealing with the subject of vertigo, and the strange fascination of two identical people fooling another all for the means of a fiend. Hitchcock is marvelous, and it really pains me to know that this film, sometimes said to be the best film of all time, was reviled when it came out.
Spencer S.
Super Reviewer
Vertigo Quotes
| | |
| --- | --- |
| John "Scottie" Ferguson: | You know, the Chinese say that once you've saved a person's life, you're responsible for it forever. |
| | |
| --- | --- |
| Madeleine Elster/Judy Barton: | Only one is a wanderer; two together are always going somewhere. |
| | |
| --- | --- |
| Madeleine Elster/Judy Barton: | If I do what you tell me, will you love me? |
| | |
| --- | --- |
| John "Scottie" Ferguson: | Anyone could become obsessed with the past with a background like that! |
Discussion Forum
Discuss Vertigo on our Movie forum!