V/H/S: Viral
(2014)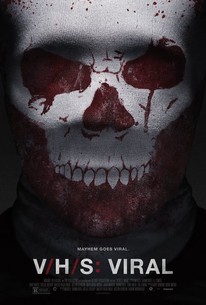 Movie Info
A police chase after a deranged ice cream truck has captivated the attention of the greater Los Angeles area. Dozens of fame---obsessed teens flock to the streets with their video cameras and camera phones, hell---bent on capturing the next viral video. But there is something far more sinister occurring in the streets of L.A. than a simple police chase. A resounding effect is created onto all those obsessed with capturing salacious footage for no other purpose than to amuse or titillate. Soon the discovery becomes that they themselves are the stars of the next video, one where they face their own death. (C) Magnet
News & Interviews for V/H/S: Viral
Critic Reviews for V/H/S: Viral
Audience Reviews for V/H/S: Viral
Radically departing from the series format, V/H/S: Viral is an inexplicable mess that's appallingly bad. The film doesn't follow its own rules, as a lot of the videos don't conform to the conventions of found footage (and some of the videos aren't even found footage). And this might be excusable if the videos were any good, but most of them aren't. V/H/S: Viral doesn't know what it's doing, and ends up turning out garbage.
Dann Michalski
Super Reviewer
Loved the last two... but this one was average for me.
Shawn Montague
Super Reviewer
The third installment in this fairly admired cult series, is not only the worst in the series, but maybe the worst film I've been subjected to in a year that has already seen two Adam Sandler and three Kevin Hart movies. Read the rest of my review at: http://www.examiner.com/review/v-h-s-viral-worst-film-of-the-year Follow me on Twitter @moviesmarkus
Markus Robinson
Super Reviewer
V/H/S: Viral Quotes
There are no approved quotes yet for this movie.