Victoria
(2015)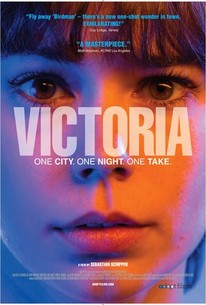 TOMATOMETER
AUDIENCE SCORE
Critic Consensus: Victoria's single-take production is undeniably impressive, but it's also an effective drama in its own right -- and one that juggles its tonal shifts as deftly as its technical complexities.
Movie Info
A movie shot in a single take about Victoria, a runaway party girl, who's asked by three friendly men to join them as they hit the town. Their wild night of partying turns into a bank robbery.
News & Interviews for Victoria
Critic Reviews for Victoria
Audience Reviews for Victoria
Splendid from the first second to the last, not only because of its magnificent single take, exceptional camerawork, charismatic actors (Frederick Lau is fantastic) and largely improvised dialogue that always sounds real, but also for the way that it stretches the tension for much longer after our nerves have been frayed to pieces.
Carlos Magalhães
Super Reviewer
½
Even a day later I can't entirely wrap my head around this film and its accomplishment. It's 140 minutes long and was shot in a single take. A single take. No edit. Of course it easily could have been 20 minutes shorter, the plot actually fits on a beer coaster. But the chemistry between the actors is great, their improvised performances are very natural. It almost feels like a found footage film and is oddly mesmerizing, even in a slow or seemingly pointless scenes. A brave attempt, a unique piece of film-making, no fast food in any sense of the meaning but definitely worth checking out. The only aspect that sometimes puts you off is how awful the protagonists decisions are.
The movie itself, positive or negative reviews aside, is a marvel in itself. To shoot a two-hour fifteen-minute movie in ONE take is astonishing. What makes it even better is the fact 'Victoria' still manages to satisfy despite a few lulls in an otherwise effective drama. The main positive I got from watching this film was how natural the acting turned out. Laia Costa and Frederick Lau get the meat and potatoes of the scenes and dialogue, but even secondary characters come off as believable due to the free-flowing nature of the film. Even though the film takes an entirely unreasonable turn in the second hour, if you can get past the absurdity of how Victoria comes to be in her position, connecting with our two main leads pays off in the climax. We get lots of tonal shifts. Among them, the film dips and rises between friendly hang-out film just following the lives of everyday people in Berlin to light action drama to romantic love story to bank heist to...you see what I'm getting at? Schipper shifts easily between all the different themes thanks to his one-take shooting. We don't really get to establish exactly where in Berlin this takes place, so if you're hoping for some sort of frame of reference on a broader scope, this sticks primarily to a few city blocks. Because of this, some scenes drag longer than they would if they were cut and spliced to make up for movie time. I see the appeal for the one-take to make sure we get a pure sense of time from one place to another, but it just means you have to be patient and enjoy the score and facial acting more-so than dialogue or arching camera shots of the city. It's a technical achievement for these guys to get a movie done in one take that last just over two hours, and major props to the camera guy who gets first billing in the credits at the end. However, movie purists will no doubtably nitpick their way to a mediocre review because of the lulls and movement of the plot from 5 to an 11 in intensity in a matter of minutes. For those who enjoy good stories, Victoria delivers on all fronts with a moving conclusion for a couple of kids who seemed to be just looking for a good night out on the town with new friends.
Lane Zieben
Super Reviewer
Victoria Quotes
| | |
| --- | --- |
| Victoria: | What's happening? |
| | |
| --- | --- |
| Victoria: | I'm the big driver. |
| | |
| --- | --- |
| Fuß: | Victoria, I'm sorry. |
| | |
| --- | --- |
| Victoria: | The cars not going on, the cars not going on! |