Vidas Secas (Barren Lives)
(1963)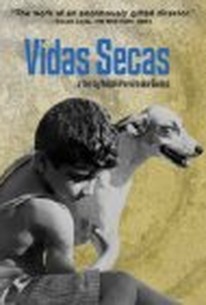 AUDIENCE SCORE
Critic Consensus: No consensus yet.
Vidas Secas (Barren Lives) Photos
Movie Info
Filmed with a strong sense of compassion for the impoverished and an underlying hatred for the injustice which forces them into the lives they must live, this is one of the first works from Brazil's Cinema Novo. A poor Brazilian family struggle to earn a living when they take a job overseeing the livestock of a wealthy rancher. They move into an abandoned house, and their fortunes begin to take an upward turn. The father is duped into a card game with a crooked local policeman. The ranch hand protests, and a fight ensues that results in his beating by the cop. Despite being the victim of injustice, the man believes there should be some semblance of law and order and makes no protest about the incident. A severe drought has the man moving on from the ranch with his family to earn their living elsewhere. ~ Dan Pavlides, Rovi
Critic Reviews for Vidas Secas (Barren Lives)
All Critics (3) | Top Critics (1) | Fresh (3) | Rotten (0) | DVD (2)
Chicago Reader
Top Critic
A powerfully emotive portrait... this seminal film of the [Cinema Novo] movement is as naturalistic and heartwrenchingly earnest as any Vittorio De Sica weepie.

Like Ford's The Grapes of Wrath, another oft-misread seditious text, the film seems primed for a revolution.
Audience Reviews for Vidas Secas (Barren Lives)
kinda like a mexican 'the bicycle thief' as it follows a poor campesino family as the try to survive
Greg Wood
Weak! The book is so much better. This movie was insanely boring. Acting was also terrible by most part of the cast.
Bruno Lot
Vidas Secas (1963) Great movie by Brazilain New Wave (60s) director. He also directed "How Tasty My Frenchman" In my mind Vidas Secas (Dry Years or Barren Years) is one of the top brazilian films ever made and it is a masterpiece. this Brazilian GRAPES OF WRATH is set in the early 1940s. This film makes John Ford´s adaptation of Steinbeck look positively cheerful by comparison. Where Steinbeck's characters fought back no such optimism exists in Vidas Secas. An itinerant family's search for a better life seems to lead nowhere. The husband finds work as a cowhand, the wife wants nothing more than a leather bed to sleep in. The stark, black and white cinematography with which the sun-bleached, barren landscape was shot underscores the poverty the family is trying to escape. Kudos to the director who was able to coax an admirable performance from the family's dog. It's a totally engaging film w/ effectively subdued performances from the principals. Reminiscent of Italian Neo-Realist cinema, this makes for rewarding viewing. Really an excellent film and the sound track really adds to the film. highest recommendation five stars
ld pierce
Vidas Secas (Barren Lives) Quotes
There are no approved quotes yet for this movie.
Discussion Forum
Discuss Vidas Secas (Barren Lives) on our Movie forum!