Vikingdom
(2013)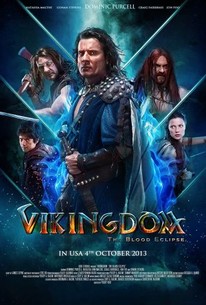 Movie Info
In the midst of time comes the clanging of steel against steel, a collision of myth, history and fiction.... "Vikingdom". Loosely based on Viking legends and the epic poems they left as record, with a creative interpretation, "Vikingdom" is a fantasy, action adventure about a forgotten king, Eirick, who was tasked with the impossible odds to defeat Thor, the God of Thunder. Thor is on a mission to gather the key ancient relics - "Mjolnir" - his hammer from Valhalla, "Necklace of Mary Magdalene" from Mitgard and the "Horn" from Helheim. This needs to be accomplished before the Blood Eclipse, which happens once every 800 years, failing which, the pagan Viking Gods will never be able to rule and conquer mankind ever again. Only one man can stop him... Eirick, the undead.(c) Official Facebook
Critic Reviews for Vikingdom
Audience Reviews for Vikingdom
A hard-hitting and visually spectacular fantasy action-packed adventure. Its loaded with heart-pounding battles and impressive special effects, not bad for a movie that cost less than twenty million to make. Director, Yusry Abd Halm crafts a uproariously fun and dazzling action epic that will appeal to the movie fan and geek in all of us. It's stylish, compelling and filled with imagination. You don't need The Hobbit or 300 to get your fantasy adventure fix. I loved it. It has enough bloody epic action, Vikings, mystery, thrills and fun to go around. Dominic Purcell is terrific, he gives a soft spoken and compelling performance. It think this movie will totally find its place as a cult classic amongst fans.
Vikingdom Quotes
There are no approved quotes yet for this movie.
Discussion Forum
Discuss Vikingdom on our Movie forum!