The Vikings
(1958)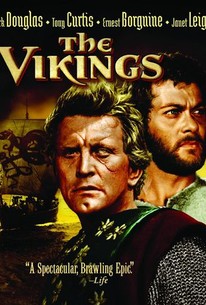 Movie Info
Inspired by the novel The Viking by Edison Marshall, The Vikings was lensed on location in Norway under extremely adverse weather conditions. Adding to the difficulty was the fact that star Kirk Douglas and director Richard Fleischer never quite found a common ground, and for years thereafter would hold each other responsible for the film's falling short of its potential. Still, the finished product is quite a feast for the eyes and ears. Douglas, the son of Viking leader Ernest Borgnine, carries on a film-length feud with slave Tony Curtis, who, though he does not realize it, is actually his illegitimate son. This personal battle comes to a head when Douglas and Curtis both lay claim on captured English princess Janet Leigh. The scene everyone remembers in The Vikings finds Borgnine, at the mercy of wicked monarch Frank Thring, defiantly throwing himself into a pit of ravenous wolves. Launched into distribution with one of the splashiest ad campaigns in United Artists' history, The Vikings proved an enormous success; it inspired the 1959 TV series Tales of the Vikings, which utilized the film's props, costumes and scale-model ships. In 1964, The Vikings served as the inagural presentation of ABC's Sunday Night Movie series.
News & Interviews for The Vikings
Critic Reviews for The Vikings
Audience Reviews for The Vikings
Michael Edwards
Super Reviewer
This is a cool movie about Vikings as played by Douglas and Curtis. The movie is really exciting and the story is great, it's pretty accurate, and very dramatic as well. I enjoyed this movie.
Just a great epic that never lost it's sense of fun and imagination. A lot of that goes to Kirk Douglas who is the epitome of the legendary Viking, he's a brutal drunken savage. However, he's also a great character and full of emotion rather than being just a stereotype. What also makes it great is the amazing set design, costumes and score. On top of that, the story is so well done and not typical of just another love & war story. The castle invasion is probably one of the greatest battle scenes, you don't get better action than that.
Conner Rainwater
Super Reviewer
The Vikings Quotes
| | |
| --- | --- |
| Kitala: | Love and hate are two horns on the same goat. |
| | |
| --- | --- |
| Princess Morgana: | I will not lift one finger to resist you. |
| | |
| --- | --- |
| Lord Egbert: | Lies will not sustain a tyrant. |
| | |
| --- | --- |
| King Aella: | Hold out the hand that has defied me. |