Villmark (Dark Woods)
(2003)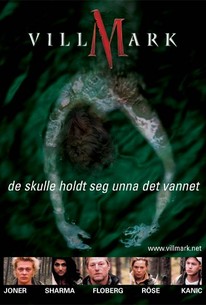 AUDIENCE SCORE
Critic Consensus: No consensus yet.
Movie Info
The crew of the TV show "Real TV" with controlling boss Gunnar on the front line will soon begin production of a reality show for which participants are selected to survive in the wilderness. Gunnar has gathered a production team of four people: The friends Lasse and Per , the Swedish girl Elin and the new girl Sara. To test his new employees, Gunnar takes them to a log cabin where he used to spend summers as a kid. The cabin is located far away from civilisation, hidden in the dark, mysterious woods. The team has to make it through a weekend, finding food that nature has to offer, and neither cellular phones nor cigarettes are allowed. When Lasse and Per find a dead body in a lake near the cottage, the group is being tested. Gunnar is suggesting that they should continue the weekend without mentioning anything to Sara and Elin about what they found. But soon the team experiences some escalating incidents which lead to paranoia, accusations and mistrust.
Critic Reviews for Villmark (Dark Woods)
There are no critic reviews yet for Villmark (Dark Woods). Keep checking Rotten Tomatoes for updates!
Audience Reviews for Villmark (Dark Woods)
8.6/10 Really good movie, it was actually very creepy and scary. Even though it's from 2003 its way better than most recent horror movies, and it's a showcase of older horror movies that really work. As a whole I really liked the movie and it kept with me long after watching it, and the pero romances were really good as well. ~August 14, 2016~
Hugo Guerrero
The only reason why I watched this, was because I've been in the woods and by the pond featured in the movie. It's gorgeous IRL, in daylight. Hence, my difficulty to see the horror in it. I was only thinking of the beauty of the place. There's a spectacular view, of the surrounding mountains and fjords, a short walk from the pond. As for the quality of the movie and the acting, I wasn't that impressed. I wasn't expecting much, however, since it's a Norwegian movie and all...
l i n d a
Log cabin, scary woods, humans going back to nature. Classic ingredients for a horror, which could either be painfully repetitive or well executed. It's certainly the latter. Shot like an autumn nightmare, the film is creepy even in the sunlight. It makes use of all the fading greens, browns and grays. It also does well in not overplaying the reality TV angle, in fact it's rarely mentioned. The characters are also mature young people, not maddeningly annoying teenagers. They develop throughout the movie and at no point does anybody do anything idiotically befuddling. No wonder there's a low body count with intelligent pray taking the focus. The ending does leave too many questions, despite giving a lot of answers in the last 2 minutes. A great horror watch.
Luke Baldock
Super Reviewer
Villmark (Dark Woods) Quotes
There are no approved quotes yet for this movie.
Discussion Forum
Discuss Villmark (Dark Woods) on our Movie forum!