Violette (Violette Nozière)
(1978)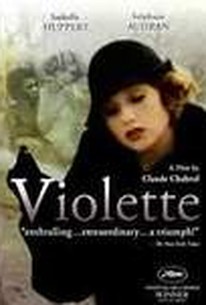 Violette (Violette Nozière) Photos
Movie Info
Claude Chabrol's Violette was based on the true story of 19-year-old Violette Noziere, who in the 1930s was tried and convicted for the poisoning of her father and the attempted murder of her mother. As played by Isabelle Huppert (who won several awards for her performance), Violette is a thrill-seeking girl who falls for a no-good slug from the slums of Paris. Anxious to give money to her lover, Violette hatches the patricide scheme in order to inherit her father's fortune. But Violette's mother, played as an deglamorized drudge by the otherwise stunning Stephane Audran, is not so easily disposed of; it is her testimony that condemns Violette, first to the guillotine, then to a commuted life sentence. In emulation of his idol Alfred Hitchcock, director Chabrol manages to evoke a measure of sympathy and audience identification for his thoroughly dislikable leading character. ~ Hal Erickson, Rovi
Rating:
R
Genre:
, ,
Directed By:
Written By:
In Theaters:
On DVD:
Runtime:
Studio:
Filmel
Critic Reviews for Violette (Violette Nozière)
Audience Reviews for Violette (Violette Nozière)
It's difficult to watch a two-hour movie about a pathetic person; not impressed at all with my first Chabrol film.
Jeff B
½
Though Isabele Huppert doesn't look the 14 years she is supposed to be in this movie, she still does an amazing job - a fragile yet sharp character, neither completely sympathetic nor utterly hateful. The problems are more in the direction. Chabrol's movie goes over the events leading up to the film's savage denouement in great detail. You're not sure why he employs flashback in some parts; why we are invited to sympathize with the lead character (Violette Noziere, the teen temptress/jilted lover) in contrast to her 'blameless' parents. While also building up her pathetic victimhood in the cause of love, Chabrol goes through some contortions to show how fickle Violette is, etc. Real life (it is based on a true case) has these contradictions, but in film, it depends on the treatment? I came away without a sense of where Chabrol was leading the viewer. One doesn't feel that the character is complex, just that Chabrol isn't sure how to portray her.
Arin D
[font=Century Gothic]"Violette" is a passable movie wherein director Claude Chabrol adds a few curveballs to his usual straightforward style in telling the story of Violette(Isabelle Huppert), a teenager in the 1930's, who hangs out with her friend Maddy(Lisa Langlois). Bored with the routines of the working class existence in her parents'(Stephane Audran & Jean Carmet) apartment, she turns to get what she wants by lying, stealing and prostituting herself. In return, she contracts syphilis from a medical student(Fabrice Luchini). However, her ineffectual parents still think of her as the little girl she once was, not that far in the past. But people change, children very rapidly which includes Violette who is now standing on the cusp of adulthood. This is a state of transition enunciated by having an adult actress in the title role which also ensures that nobody gets arrested.[/font]
Discussion Forum
Discuss Violette (Violette Nozière) on our Movie forum!