Virgin Territory
(2007)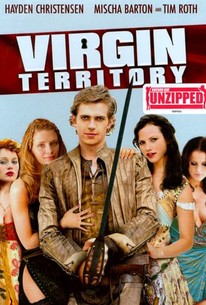 AUDIENCE SCORE
Critic Consensus: No consensus yet.
Movie Info
A lovely maiden with three potential suitors finds the competition to take her hand in marriage heating up to a fever pitch in an adventuresome comedy romance starring Hayden Christenson, Mischa Barton, Tim Roth, and Christopher Egan. Based on the novel by author Giovanni Boccaccio, writer/director David Leland's rousing period film offers a unique mix of old world aesthetics and contemporary sensibilities.
Critic Reviews for Virgin Territory
All Critics (2) | Fresh (0) | Rotten (2) | DVD (2)
... somehow manages not only to not be sexy, but neither witty nor engaging on any level.

It's an offering of bawdy behavior without a pinch of inspiring sparkle, and the more it tries to assume a provocative posture, the more the feature humiliates itself. Lighthearted ogling shouldn't involve this much moviegoing discomfort.

Audience Reviews for Virgin Territory
Worthless trash. I put this on as background noise because the cable guide description made it sound decent -- kind of a cross between CANTERBURY TALES and FLESH AND BONE. I saw that Tim Roth was in it, so it seemed OK. How wrong I was. Roth must have done this because he needed some extra money to pay off his Christmas debt. Turns out that it's a soft-core sex comedy, and a badly-done one at that. I should have paid heed to the rest of the cast -- Hayden Christienson and Mischa Barton. I'm glad I only half-watched it. Had I wasted any real time on it, I would be embarrassed and pissed at myself.
American Pie meets Medieval Times. Virgin Territory is the story about a teenage maiden with three suitors during the Bubonic plague and decides to run from at least one of them. (Okay, so a little bit of Runaway Bride thrown in too). It also lightly and amusingly discusses the importance of virtue and virginity and the two aren't necessarily interchangeable. I liked it. It was entertaining. Craig Parkinson had to be the best part about this film. He was effortlessly funny. And the three hours didn't actually feel that long. Hayden Christensen is actually kinda hot when he isn't being pretentious and above it all. And I see Mischa Barton has gotten perfectly pigeon-holed into the "poor little rich girl" typecast role. The character Tindaro even says so in the film! Give it a look-see if you've got 3 hours to kill.
Remi Logan
Super Reviewer
Hayden Christensen, Mischa Barton, Matthew Rhys and Tim Roth star in this medieval tale which is a mixture between a parody and a sex comedy and aims to entertain the audience, with a certain amount of gratuitous nudity and sexual innuendo,. Recommended just for the giggles, nice cinematography and costumes!
Virgin Territory Quotes
There are no approved quotes yet for this movie.
Discussion Forum
Discuss Virgin Territory on our Movie forum!