Virginia City
(1940)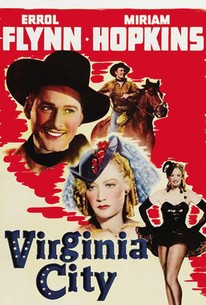 AUDIENCE SCORE
Critic Consensus: No consensus yet.
Movie Info
After escaping from a Confederate prison during the Civil War, Union officer Errol Flynn vows to stop a $5,000,000 gold shipment from reaching the South. He is challenged by Southern sympathizer Randolph Scott, whose interest in the gold is patriotic, and by outlaw Humphrey Bogart, whose interests are purely mercenary.
Rating:
NR
Genre:
, , ,
Directed By:
Written By:
On DVD:
Runtime:
Studio:
Warner Home Video
Critic Reviews for Virginia City
Audience Reviews for Virginia City
All I want is a pocket full of rocks. Union Officer Kerry Bradford escapes prison and encounters an eccentric woman from Virginia City, Nevada. He agrees to return to the city with her, but she will only allow him to follow her if he promises to not ask any questions. Shortly after arriving in her home town, he discovers that $5 million in gold is being sent though the town to save the confederacy. Will Bradford get involved in this money or will he stay under the radar with his new found friend? "Are you going to visit your wife?" "No. I was running away from her...and fast too." Michael Curtiz, director of Casablanca, White Christmas, Mildred Pierce, The Adventures of Robin Hood, the Vagabond King, Yankee Doodle Dandee, and Captain Blood, delivers Virginia City. The storyline for this picture is pretty good with dynamic characters and a good ending (a bit sad, but good). The settings were very well done and the film had a war and western feel at the same time. The acting was very good and the cast includes Errol Flynn, Miriam Hopkins, Randolph Scott, Humphrey Bogart, and Alan Hale. "I thought I'd let you work out your own punishment." "That's amusing." I DVR'd this picture last May off Turner Classic Movies (TCM) for two reasons: it is directed by one of my all time favorite directors, the great Michael Curtiz, and it also has one of the all time great actors, Errol Flynn. Curtiz took a huge risk of mixing the two genres, the war drama and the western action pictures, and pulled it off. Flynn does a great job of battling his demons while participating in great shootouts. This isn't my favorite film by either stakeholder, but it is an entertaining picture with great characters and a magnificent ending. "Can't you see this is murder?" Grade: B
Kevin Robbins
½
Interesting plot, (based on a "true" story) but painful to watch Bogart being some bandito with a lame mexican accent. A tale of love blossoming between two unlikely people... one a Union "intelligence officer" (spy) Errol Flynn and Miriam Hopkins as Julia, a Southern belle and spy out to save the Confederacy with 5 million in gold. SEE a clip or two from the film: http://www.tcm.com/mediaroom/video/480501/Virginia-City-Movie-Clip-Too-Well-Used.html OR http://www.tcm.com/mediaroom/video/480504/Virginia-City-Movie-Clip-In-This-Fever-Hole.html [img]http://ts3.mm.bing.net/images/thumbnail.aspx?q=4552532716880474&id=c18c6bcea5e671bbeedeaab632deaeaa&url=http%3a%2f%2f204.244.128.121%2fassets%2fproduct_images%2f1020%2f530157.1020.A.jpg[/img] Union officer Kerry Bradford escapes from Confederate Prison and is set to Virginia City in Nevada. Once there he finds that the former commander of his prison Vance Irby is planning to send $5 million in gold to save the Confederacy. Anguish abounds as Julia delivers her love smitten Flynn over to Randolf Scott, the Confederate officer determined to deliver gold to the ailing and desperate South. Don't listen for any real Southern accents from anyone in this film. Scott has a Bronx accent in particular which was terribly inappropriate. Randolf Scott is his typical wooden self as a confederate agent determined to bring 5 million in gold to a starving Confederacy. Errol Flynn is not bad in his western duds, a bit of a swashbuckler Union spy out to stop the gold delivery. Were it not for the star studded cast, this would be pretty much just another Western shot in black and white. Rousing musical soundtrack by gifted Max Steiner. Towards the end, some great scenery and horse riding shots abound. [img]http://ts4.mm.bing.net/images/thumbnail.aspx?q=4716759374561299&id=7126e03002f85d168344b26bf19e57d2&url=http%3a%2f%2fwww.montanafilm.com%2fprojects%2fimpossible%2fVirginiaCity_OldWesternTown%2fVC20.jpg[/img] Viginia City, Nevada back then Look for George Reeves, ie 50's television's Superman, as the telegrapher late in the film, though you don't see his face. Fate (or destiny as Flynn puts it early in the film) takes a hand and near the end, the two foes Flynn and Scott end up shooting it out on the same side against Bogart. Julia ends up pleading her love's case to none other than Lincoln himself. Much of Gone With the Wind seems to find its way into this film. You'll see and hear several similar lines that remind on of that. NOTES of the film: 1 The film premiered in its namesake, Virginia City, Nevada. 2 It seems all too apparent that the director, Curtiz, had a soft spot for love in anguish. Made two years before Casablanca, the ultimate unrequited love movie... Curtiz directed this similar desperate love affair amidst shooting, the Civil War and much more. 3 The commentary is well worth listening to on the DVD. Lots of information and the commentator sticks with each scene, mentioning lots of trivia. Be sure to check it out. 4 Charles Middleton, the actor here, played both Lincoln and Davis, both Presidents of their states. 5 Gwynn Williams and Alan Hale Sr. had 500 supporting cast roles to their credit. They both were at the side of Flynn through much of this picture. They also got many of the more interesting lines in the film. 6 Bogart was actually a pretty short guy, puny like. Watch when he gets out of the stagecoach early in the film amongst the other actors. [img]http://ts3.mm.bing.net/images/thumbnail.aspx?q=4870205657580418&id=1b880ed08ff4cfeeb32cbf12273f63a3&url=http%3a%2f%2fstatic.freemoviedb.com%2fimgs%2fmovie_imgs%2fposter%2f4ea63ca49dc3d83c3b005d71%2fvirginia_city.jpg[/img] Either he was short or they were all tall, but he comes off looking like some sort of wimp. [img]http://ts1.mm.bing.net/images/thumbnail.aspx?q=4820414113579660&id=96ee944827753887b9f3aeaa14f17a11&url=http%3a%2f%2fimg.filmous.com%2fstatic%2fphotos%2f20452%2f2_midi.jpg[/img] 7 Max Steiner, composer for the film, also did Gone With the Wind. Steiner was pre-eminant as the top composer for the studio at the time. Cast Errol Flynn as Captain Kerry Bradford Miriam Hopkins as Julia Hayne Randolph Scott as Captain Vance Irby [img]http://ts4.mm.bing.net/images/thumbnail.aspx?q=4734802521293047&id=a204ca976c9e97b1a98ca1dc8f58fbd2&url=http%3a%2f%2fwww.allmovia.com%2fc%2f5739%2f5739_3.jpg[/img] Humphrey Bogart as John Murrell Frank McHugh as Mr. Upjohn Alan Hale as Olaf 'Moose' Swenson Guinn 'Big Boy' Williams as 'Marblehead' John Litel as Thomas Marshall Douglass Dumbrille as Major Drewery (as Douglas Dumbrille) Moroni Olsen as Dr. Robert Cameron Russell Hicks as John Armistead Dickie Jones as Cobby Gill Frank Wilcox as Union Outpost Soldier Russell Simpson as Frank Gaylord Victor Kilian as Abraham Lincoln Charles Middleton as Jefferson Davis Directed by Michael Curtiz Produced by Hal B. Wallis (executive producer) Written by Robert Buckner (play) Howard Koch (uncredited) Norman Reilly Raine (uncredited) Music by Max Steiner Cinematography Sol Polito Editing by George Amy Distributed by Warner Bros. Release date(s) May 16, 1940 (1940-05-16) Running time 121 minutes Country United States Language English Budget $1 million [img]http://upload.wikimedia.org/wikipedia/en/thumb/f/f2/Virginia_City_poster.jpg/220px-Virginia_City_poster.jpg[/img]
monsieur rick
This is a confused western. Bogart is in an odd role in a supporting effort. His portrayal of the bandito was hard to get on board with. Flynn was solid but the movie really got bogged down in parts and went on way too long.
Jamison R
Discussion Forum
Discuss Virginia City on our Movie forum!