Virgins of Sherwood Forest
(2000)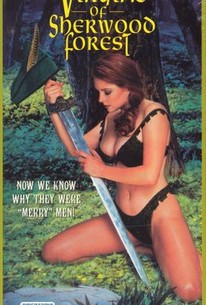 AUDIENCE SCORE
Critic Consensus: No consensus yet.
Virgins of Sherwood Forest Videos
Virgins of Sherwood Forest Photos
Movie Info
A pushy filmmaker is whirled back to medieval times in this spicy swashbuckler. When she hits her head, a B-movie director named Nina wakes up in Sherwood Forest, where she discovers Robin Hood and his merry men have become lazy. Nina therefore teams up with a legion of women followers to battle the Sheriff of Nottingham's villainous sister. Gabriella Hall, Jason Schnuit, Amber Newman.
Critic Reviews for Virgins of Sherwood Forest
There are no critic reviews yet for Virgins of Sherwood Forest. Keep checking Rotten Tomatoes for updates!
Audience Reviews for Virgins of Sherwood Forest
Most times, the only thing more pointless than watching films like "The Virgins of Sherwood Forest" is reviewing them, and now that I've accomplished the first, I will attempt the second. This is a soft core porn spoof of the Robin Hood legend that is neither funny or titillating, and when a film like this fails to be sexy it has pretty much failed at everything. The actresses are all attractive enough, and they have nice bodies (even though a few of them are clearly the result of an overachieving plastic surgeon), the movies isn't really as daring as something you'd see on late night cable. The sex scenes are rather plain and ordinary, and that leaves you with no reason to watch. The script (if there was such a thing) makes several feeble attempts at humor but fail miserably, and none of the actors have much charisma. Nothing is required of them other than looking good naked, at which they are marginally successful. The sets, costumes and acting are all second-rate, and perhaps worst of all, the title makes no sense as clearly none of these people are virgins within the context of the story. You almost have to admire a film that sets out to achieve so little and fails this badly at it. "The Virgins of Sherwood Forest" sets the bar shockingly low and yet is still a massive disappoitntment, and while I know fans of this type of cinema do exist, I think that even they would have to agree.
Timothy Sanders
Reason #1 to watch this silly eroticom: Gabriella Hall Reason #2 to watch this silly eroticom: Gabriella Hall Reason #3 to watch this silly eroticom: Uh...more Gabriella Hall? Yeah, that's about it. Susan Hale also has a small role, the rest of the ladies don't do much for me and the comedy is pretty poor overall. I think one of TV's Survivors won a role in this, if you care.
Doctor Strangeblog
Super Reviewer
½
CHECK IT OUT... I just found out Virgins of Sherwood Forest is in THE 12 DVD SURRENDER CINEMA ARCHIVE BOX SET!!! INCLUDED IS THE RARE!!! EXOTIC TIME MACHINE I & II ONLY $90!! LIMITED TO 900 UNITS ALL NUMBERED AND SIGNED!
N N
Virgins of Sherwood Forest Quotes
There are no approved quotes yet for this movie.
Discussion Forum
Discuss Virgins of Sherwood Forest on our Movie forum!