Vishwaroopam
(2013)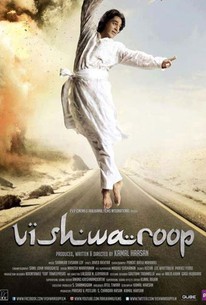 AUDIENCE SCORE
Critic Consensus: No consensus yet.
Movie Info
Nirupama salvages her deteriorating relationship with her dance instructor husband after knowing him to be an undercover spy working against terrorism.
Rating:
NR
Genre:
, ,
Directed By:
Written By:
In Theaters:
Runtime:
Studio:
Blue Sky Cinemas
Audience Reviews for Vishwaroopam
Kamal Haasan is without a doubt one of the most brilliant minds in Indian Cinema, yet time and again he produces movies with the most contrived plots and characters. He is a complex man with a complex mind and his personal frustration in making movies bounded by financial limits, lack of intellectual appreciation among the Indian audience and resource constraints coupled with his desperation to make world class movies make Kamal blunder time and again in endeavors that can otherwise be remarkably successful. Kamal in the quest for great legacy is consumed in his own ego. And what makes it worse is he knows that. Even his attempts at controlling his ego only feed it even more. As a great fan of Kamal, who enjoyed Nayagan, MMKR, Singaravelan, Anbe Sivam and many of his old movies I am deeply saddened by Kamal's movies since Anbe Sivam. In Dasavatharam Kamal forced a few roles too many in the plot- (the Avtaar Singh, Kalifullah and Shinghen) and marred an otherwise brilliant movie. In Alavandhan while Kamal's inimitable dedication and hard work were obvious the movie lacked a soul and story.Now coming to Vishwaroopam like many I had great expectations. I resented the controversy about his movie and out of empathy, admiration and curiosity I set out to watch the movie only to be disappointed. The plot is convoluted. Kamal is almost absent in some very key scenes. He is physically present but missing in action. The movie has too many cheesy dialogues and extraneous sequences. While the action of a brilliantly choreographed fast fight sequence when Wiz reveals who he is to Nirupama is brilliant, there were no such sequences after that and the audience is left wanting for action even at the climax. There are no car chases with fancy sport cars. The film is badly edited and its BGM score at critical and potentially thrilling moments non-existent. The dispensable cheesy dialogues between Nirupama and the black investigator lady, the fawning dialogues of Bob and the poorly attempted humor between Andrea and Nirupama during the car chase scene and many other such scenes distract the audience and prevent the build up of the momentum and suspense required of an action spy thriller. The death of Dawkins falls flat without any emotion of a big loss. His character seems forced and Shekhar Kapoor makes no impact. I watched the Tamil movie and the poor accents of all characters made me cringe and wonder why Kamal couldn't have just dubbed their dialogues with native speakers. He could have picked a Tamil ABCD girl if he was so keen to get the American English Accent. Not to say that all Brahmins are vegetarian but Kamal really needs to get over his compulsive obsession to portray Brahmins as anything but Brahmin. Even the dravidian movements of the 60s have moved on. Despite all the uproar, he will never dare to show a Muslim enjoying pork! Kamal's salvation lies in learning from Rajini about how to be successful and humble. Ironically, Kamal names many of his movies with Srivaishnavite titles: Alavandhan, Dasavatharam, Vishwaroopam, Hey Ram, Manmadhan Ambu. It is hard to stay humble and fresh in an atmosphere of fake and fawning praise from millions of sycophants but to make good art Kamal needs to rediscover his innocence again. Reset and think about his evolution over the years with a new perspective. Nobody likes to see a great mind go to waste.
Rajalakshmi Srinivasan
1. This is not a Tamil movie :) should have been English / French or something , then most of the Tamil folks will tell its a awesome movie 2. Not even single element of Tamil movie is there .. But movie is super mass 3. Song / comedy all going with the flow of the movie.. Nothing separate 4. It's not action movie ... It's a thriller (spy) 5. It has its own loop hole in screenplay but it did not bother me much.. I don't care if the movie is going in fast phase I felt the experience good.. Movie is similar to "body of lies" / spy game
Gobinath Mallaiyan
Vishwaroopam Quotes
There are no approved quotes yet for this movie.
Discussion Forum
Discuss Vishwaroopam on our Movie forum!