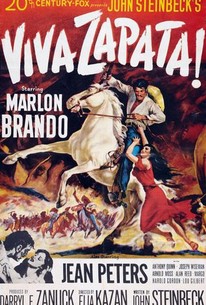 Viva Zapata!
1952, Biography, 1h 53m
19 Reviews
2,500+ Ratings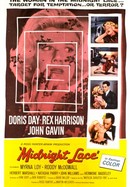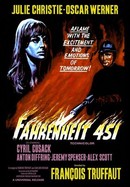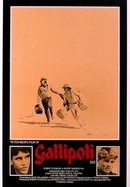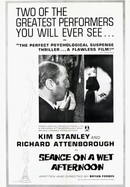 Seance on a Wet Afternoon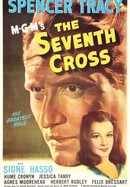 Where to watch
Rent/buy
Rent/buy
Rent/buy
Rate And Review
Movie Info
Mexican rancher Emiliano Zapata (Marlon Brando) becomes a revolutionary when corrupt President Porfirio Diaz (Fay Roope) ignores the needs of his people. Zapata, his brother Eufemio (Anthony Quinn) and northern rebel Pancho Villa (Alan Reed) band together behind Diaz's political opponent, Francisco Madero (Harold Gordon). But when Madero's administration, particularly General Victoriano Huerta (Frank Silvera), proves just as corrupt as the one it replaced, Zapata is spurred to further action.
Audience Reviews for Viva Zapata!
Oh, if you could listen to my brain right now, well, you would go insane long before you get to that point where music gets stuck, where you would hear this title being sung in the style of "Viva Las Vegas". Interesting how John Steinbeck was well-known for his harshly realistic literature, and with this film about the true story of Emiliano Zapata, he decides to make stuff up. You have to at least give him credit for realizing that this was always going to be kind of a bogus telling of the great Mexican Revolutionary, seeing as how they're getting Marlon Brando to play Mexican. Well, this film is black-and-white, so no one could see any brown on his skin, and with that meek, somewhat nasally little voice, I'm sure he could deliver on a reasonably convincing Mexican accent. They just wanted Brando in this lead role for the star power, but hey, Anthony Quinn really is Mexican and a big star, so they could have given him the role of Zapata. Well, it's not like he was given a thankless role in this film, because he did score Best Supporting Actor... for playing a Mexican, which isn't nearly as big of a stretch as Brando playing a Mexican. Oh, it's not like it matters, because Quinn and Brando are both good, as is the film, for all its flaws extending beyond the casting. At just under two hours, the film isn't very long to tackle rather grand subject matter, but it still finds time to drag its feet, that is, not through meandering, but through excessive, almost filler material which storytelling jars between, resulting in a somewhat incoherent focus. The film keeps on moving, often to a point, and often through fat around the edges, thus, this pseudo-epic is simultaneously short on a sense of urgency, and busy, rarely slowing down to draw upon real nuance. Each character is distinct and well-portrayed, but in terms of exposition, the supporting roles aren't given too much attention, and I would be fine with that if the lead Emiliano Zapata character wasn't himself a little undercooked, to the point of feeling like a type, with hardly any layers, and a sense of glorification, even though the true figure was a notoriously flawed and intriguing individual. No matter how much the film proves compelling in enough places to shine a light on the value of a story which is loosely interpreted here, there's a distinct lack of edge to this romantic take on Zapata and his worthy and, at times, questionable endeavors, and that makes some of the more romantic aspects feel a pinch histrionic and theatrical, and not necessarily in reflection of ambition. There are a few lazy touches in this film's storytelling and dated romanticism, and if nothing else draws your attention towards that, it's the fact that both and other aspects of this very 1950s Hollywood drama are hardly anything new, and riddled with a certain predictability. This is a bit of a typical '50s Hollywood bio-drama, and on that level, it does plenty of things well enough to compel just fine through and through, yet there is a shortage on coherency, nuance, urgency, edge and freshness that hasn't faired especially well against the test of time, and may turn more than a few people off. For me, however, while my attention was not firmly held, my investment never truly abated, for the film entertains and engrosses enough so to do some worthy justice to worthwhile subject matter. This film's loose depiction of peasant-turned-hero Emiliano Zapata's life during and role in the Mexican Revolution gets a little superficial and histrionic, while putting a lot of emphasis on chatter over action, and yet, this subject matter is consistently intriguing, whether it be focusing on the political and personal struggles of Zapata, or on the great consequences and scale of the Revolution he played an instrumental role in. There's plenty to immerse you into this story, and that includes Fuller Leland's and Lyle R. Wheeler's art direction, which recreated this drama's setting with distinction, not necessarily flare, which is all but compensated for by Elia Kazan's tasteful plays on Joseph MacDonald's spare cinematography through memorable visuals. Kazan has style on his side, but only when things to stylize come into play within this dialogue-driven, almost minimalist character drama, thus, Kazan most needs to deliver on thoughtfulness as a director, and he drops the ball in a number of places, but more often than not, when he isn't keeping up a tight pace, he's establishing a couple genuinely edgy scenes that really reflect what could have been, and mark heights in a consistent engagement value. Again, Kazan might not be able to resonate with many, but when he hits, he hits hard enough to cut through any potential natural shortcomings or superficialities, and compel pretty thoroughly, doing justice, not simply to strong subject matter, but to some strong scripting. Near-legendary realist novelist John Steinbeck takes a romantic approach to this film's script, undercooking and glorifying certain aspects, while getting to be disjointed with structure and focus, but his screenplay remains pretty respectable on the whole, with memorable dialogue and set pieces, and some depth for every superficiality, at the expense of glaring stereotypes that really thin down the roles. This cast's material is not so thin as to hold the performers' way, way back, and thus, what humanity there is in this drama goes truly defined by across-the-board strong performances, the strongest of which being courtesy of the darkly layered Anthony Quinn, and of the miscast, yet near-transformative Marlon Brando, who projects charisma which defines the respectability of Zapata, but also incorporates profound emotional layers and a vulnerability, both of which are laid on rather thin in the characterization. By bringing nuance to a somewhat thinly characterized lead, Brando technically carries this film, but he isn't the only rewarding attribute of this film, which may try the patience of many, and does feel underdone in a number of areas, but engrosses plenty as an intimate and intriguing drama. Overall, the film is a little bloated around the edges and unevenly focused, yet still too busy for you to salvage all that much nuance in characterization, through histrionics and conventions that further hold the final product back, but not by much, for through worthy subject matter, immersive art direction, engrossing direction, memorable scripting, and strong performances, - particularly by Anthony Quinn and Marlon Brando - Elia Kazan's "Viva Zapata!" manages to reward as a romantic account of the life and strives of an instrumental figure in the Mexican Revolution. 3/5 - Good

Speaking of Pancho Villa, here we have another take on the Mexican revolution that centres on Villa's compatriot Emilano Zapata. Brando is a bit better than Wallace Beery at going above stereotypes but main points in the Revolution are still missed. Perhaps we need a revolutionary epic by one of the promising Latin American directors.

Sluggish, miscast drama surprisingly pedestrian considering the talent involved. Quinn should have played Brando's role and good actress through Jean Peters was she doesn't belong in a part that Katy Jurado would have filled perfectly. Maybe she was busy making High Noon.

Director Elia Kazan and actor Marlon Brando were the ideal combination, and this film is just another piece of evidence. Working from a rich screenplay by John Steinbeck that perfectly captures the scope and tragic character arc of Zapata, Elia Kazan gives the picture his own gritty flavor and simplistic visual appeal. Marlon Brando dominates in the lead role, playing a complex and demanding character full of anguished undercurrents. Fast, exciting and brilliantly executed, this is a masterpiece and a definite favorite of mine.
See Details