Viy
(1967)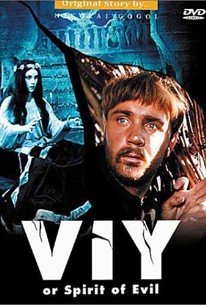 AUDIENCE SCORE
Critic Consensus: No consensus yet.
Movie Info
This Russian film adaptation of Nikolai Gogol's story was for a long time the only horror film made in the Soviet Union. Khoma (Leonid Kuravlev), a young novice, travels across the countryside and stays for a night in a barn that belongs to an ugly old woman. When she attacks him at night and takes him for a broom ride, the scared novice fatally wounds her, and before she dies, she turns into a beautiful young noblewoman (Natalya Varley). The latter leaves a will, according to which Khoma should pray for her for three nights in the chapel until her body is buried. At night, the witch rises from the coffin and tries to catch Khoma. She flies around but she can't reach him or see him because he stays inside the circle that he has drawn around himself. During the third and last night, the witch makes the last attempt to scare him out of the circle, and she calls all sorts of ugly creatures to help her... Gogol wrote several stories based on Ukrainian folklore, many of them dealing with the Devil and the supernatural. ~ Yuri German, Rovi
Audience Reviews for Viy
½
the russian horror classic can now be seen in it's entirety w/english subs on youtube here: http://youtu.be/zyg0WUsY9HI . legendary russian movie studio mosfilm has a youtube channel where they are posting their most famous films, most with english subs. they'll be adding 5 new features a week for a total of 200 by year's end. tarkovskys, eisensteins and plenty of lesser known gems can be found here: http://www.youtube.com/user/mosfilm
Stella Dallas
Super Reviewer
½
A philosopher monk must spend 3 nights vigil over the body of a witch he possibly murdered.  I?ve heard that this is Russia?s first horror film, made in 1967, and boy, is it a doozy.  Though most of the characters are fairly unlikable and the story slows down in spots, this is a visually astounding film.  And the payoff, with the monk spending the third night with the corpse, has to be seen to be believed.  Great stuff.
Christopher Brown
Super Reviewer
A seminarian in Czarist Ukraine must say prayers for three nights over the corpse of a deceased witch who had a vendetta against him. This Soviet era film, now available in the West, is one of the true classic horror movies, with no blood, sex or CGI but a brilliantly chilling story, amazingly elegant effects, and a final reel of full of horrifyingly conceived monsters . Faithfully adapted from the Nikolai Gogol short story.
Viy Quotes
There are no approved quotes yet for this movie.