Vlad
(2004)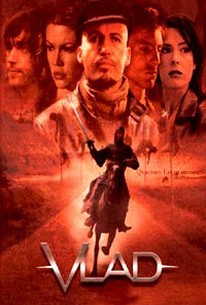 Movie Info
Directed by former CIA officer Michael Sellers, Vlad chronicles the far-reaching consequences of a professor's (Child's Play veteran Brad Dourif) request that his students visit the tomb of the infamous Vlad Drakul (aka Vlad the Impaler). Known as one of the cruelest figures in world history, Drakul's reputation for dismembering his victims ultimately led to the belief that he himself may have been a vampire -- he was, in fact, the inspiration for Bram Stoker's Dracula. With this in mind, four foreign-exchange students, along with their Romanian tour guide (Billy Zane), venture into the bowels of Drakul's final resting place. When the students come into contact with a legendary necklace, they realize that its rumored ability to traverse throughout time and space is no myth. Vlad features performances from Kam Heskin, Monica Davidescu, Nicholas Irons, and Paul Popowich.
Audience Reviews for Vlad
½
Since I loved Bram Stokers Dracula so much, this just seemed an extension of that, albeit slower.More History/Folklore of Vlad Drakul that fascinates me so much, & a bit of interesting Romanian customs as well to keep me interested.An Amulet Necklace/Locket that was part of Dracula's Family, & some time travel by a English Girl that I never really understood completely make up the story.One of the 4 exchange students was a relative of Vlad's somehow & had visions.They are pursued by a secret society of Vlad Drakul followers, of which Billy Zane belongs, they are trying to get the necklace.One of the 4 Exchange Students is kidnapped by Vlad , he makes Love to her & Drinks her Blood,but it is the Time Traveling Middle English Beauty he is after.It becomes a quest to return the Amulet Locket to Vlads Tomb to rid the world of Vlad. If it weren't for the interesting Folklore/History that I seem to have a Passion for( that I can't explain to myself), this would be a lame Movie, but I enjoyed it.
Marilee Aschwanden
An impressive retelling of the old story, starring Billy Zane. It was shot on location in Romania and the surrounding areas, and it pays off. The film, and the gothic settings, work wonders here. The acting from the cast is mostly pretty good, with a few characters reacting oddly when certain things happen near the end (attmepting to be spoiler free). There's a rather amazing dream sequence in the first act that nicely sets up the rules of this Dracula. The whole thing is bathed in dark glow, making everything creepy and dreamy at the same time. Not always perect, but damn good, and mostly succesful.
Bobby LePire
Worst movie ever. I'd rather have my eyes gouged out before seeing it again...very disappointing considering the talent.
Sarah I
Vlad Quotes
There are no approved quotes yet for this movie.
Discussion Forum
Discuss Vlad on our Movie forum!