Voices
(2008)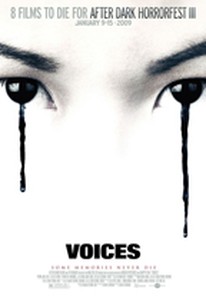 AUDIENCE SCORE
Critic Consensus: No consensus yet.
Movie Info
Inspired by the popular Korean comic book series It's Two People by Kang Kyung-ok, Oh Ki-hwan's tells the tale of a young woman who believes she is marked for death after seeing a pair of shocking murders. A wave of murder has washed over the city, but why are seemingly normal people suddenly turning into maniacal killers? People are hearing voices commanding them to commit murder, but with no discernable pattern to the killings, it's impossible to tell who will be next. Unable to trust even her closest friends, one brave girl attempts to survive long enough to solve the mystery and stop the slaughter.
Critic Reviews for Voices
Audience Reviews for Voices
This is a terrible movie. It's one of those 'psychological' horror films that's really just a first grade attempt at being smarter than your typical horror film. Not to mention the fact that the plot of the film literally makes no sense and the film does not make an effort to explain what is going on in a satisfactory manner. Like I said, this is first grade level attempt to tell a psychological horror story. There's this guy that follows our protagonist around who's supposed to represent the evil in all of us. It's really that fucking basic. And it's not that it's basic or simple because that isn't a problem in and of itself, it's just the way they handle it that's really a massive turn off. The writing in this film, or at least how they choose to represent the evil in all of us, is like high school level bullshit. It's just so poorly written, it's not even funny. And that goes without even mentioning the supposed curse that's causing everyone close to the protagonist to want to murder her. Like what is the fucking point of it all. Where'd the curse come from and what is its purpose. It's like by the end of the film it doesn't even matter, it is irrelevant because the film is about the evil in all of us. If that was the fucking point of your shitty story, then why focus so much on this supposed curse that's been going on for, seemingly, decades and it's treated as a dark family secret that the protagonist's parents don't want revealed. In all honestly, this has to be one of the worst-written movies I've seen in a long time. Maybe not that I've ever seen, but it's certainly the worst that I've seen recently. It's a movie that at any time make sense. It focuses so much on a curse that, in the end, ends up being irrelevant, so you feel like you've pretty much wasted your time trying to invest in this. There's even some scenes where you see a monster that, again, plays absolutely no part in how the movie ends up. It uses a lot of blood in order to distract you from all the problems that lie underneath. Of course it doesn't work. I know that everyone is entitled to their own opinion, but I find it highly unlikely that anyone, actually watching this with an attentive eye, would actually find something to enjoy about this movie. There may be other movies that I don't enjoy, but I get how or why some people would enjoy them. Like Date Movie, or any other Seltzer/Friedberg debacle. I hate those movies, but I can see how some people would enjoy that sort of stupid and crass humor, not trying to suggest that those that enjoy these movies are stupid. That's not the case here. I just can't see how anybody would find something to like about this. I'm not saying that some won't, I just don't see how. That's how bad this movie is. I don't know what else to say about this movie. The movie is poorly written, the acting is fine, though some were hamming it up there at the end, but the shitty writing pretty much overcame everything like an unstoppable plague. This is a dreadful, dreadful movie that I absolutely loathed. I cannot recommend. Please stay away from this movie. Please. You've been warned.
Jesse Ortega
Super Reviewer
½
This should have been called Confusing Loopholes.
Cynthia S.
Super Reviewer
Voices Quotes
There are no approved quotes yet for this movie.
Discussion Forum
Discuss Voices on our Movie forum!