Voices From Mariel
(2011)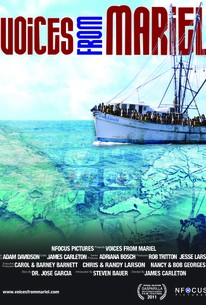 AUDIENCE SCORE
Critic Consensus: No consensus yet.
Movie Info
On April 1 1980, five political dissidents seeking asylum crashed a bus through the gates of the Peruvian embassy in Havana, Cuba. In the following days, 10,000 people stormed the embassy grounds, signifying wide-spread disdain for Cuba's dictatorship. Fearing that continued civil unrest might cause further violence, Fidel Castro proclaimed that any Cuban wishing to leave the country could board a boat at the nearby port of Mariel. In what some considered a bold move, Castro emptied jails and insane asylums and forced criminals and the mentally ill to board refugee boats. While only a small percentage of the 125,000 Mariel refugees were actually criminals, Castro succeeded in tarnishing the image of those fleeing the country. For the vast majority of those who left Cuba, this was the beginning of a perilous journey to freedom. The exile would mean not only leaving personal possessions behind, but a separation from family that could last a lifetime. For the Marielitos, the cost of their mass exodus was outweighed by something previously unimaginable: a chance to pursue their dreams. Dr. Jose García left through Mariel as a 13 year-old boy. Thirty years later, his journey of self discovery takes us through personal accounts of people whose lives were transformed by El Mariel; those who left and those who stayed behind. Culminating with his long anticipated trip back to his birthplace, we see the emotional reunion of family and friends as we explore and listen to the unheard Voices From Mariel.
Rating:
NR
Genre:
,
Directed By:
Runtime:
Studio:
Audience Reviews for Voices From Mariel
I thought that this was a great documentary and you could see the passion in the movie. It was a great story and great way to realize how some of us have it in the United States. I really recommend this movie
Eric Lancaster
I really enjoyed this documentary. I had no idea the struggles that Cubans really went through in order to flee their country. My Spanish professor, Dr. Garcia actually went back to Cuba in order to do this documentary and was followed the entire time by Cuban officials, but he did not let them intimidate him. I commend his bravery and would recommend this documentary to everybody. I really think they did a good job.
Jesusita Williams
This documentary was very compelling, It opens your eyes to the suffering experienced by Cubans. We always hear about the suffering that Jewish people experienced. Here you get a firsthand account of what went on in Cuba. For he first time you can hear how the Cubans actually felt and what their personal experiences were
Chinyere' Tunsill
Discussion Forum
Discuss Voices From Mariel on our Movie forum!