Voices of a Distant Star
(2003)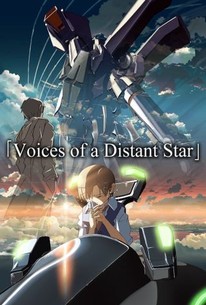 AUDIENCE SCORE
Critic Consensus: No consensus yet.
Voices of a Distant Star Photos
Movie Info
Makoto Shinkai's animated science fiction film Voices of a Distant Star concerns a fighter pilot who travels into space to fight in an alien war. Mikako braves death in battle while her great love Noboru stays on earth. Their only communication is text-messages. Due to the theory of relativity, Noboru ages years at a time between visits from Mikako, while she ages just days or weeks at a time.
Critic Reviews for Voices of a Distant Star
There are no critic reviews yet for Voices of a Distant Star. Keep checking Rotten Tomatoes for updates!
Audience Reviews for Voices of a Distant Star
½
Makoto Shinkai takes the romance and layers it with science fiction to create a short animation with a suitable title, Voices of a Distant Star.
At a brief 25 minutes, this animation packs a punch when it comes to story concept and character. The idea of text messaging with cell phones through space is highly amusing. As the characters grow, their text messages travel years through space to reach their destinations, which creates some emotional interactions between the two leads.
The science fiction space battles, while not the highlight of the film, are fun and backed with some excellent sound effects. If there is one thing lacking here, it is the build up of the Tarsian aliens, although they are background when it comes to the relationship between Mikako and Noburo.
There isn't much to the voice work, since there are only 2 characters and one "operator" that need voices. All that needs to be said is Mika Shinohara, Makoto Shinkai, and Donna Burke get the jobs done.
Voices of a Distant Star is easily a film to make time for. Give it a try. It's only 25 minutes.
½
Directed by Makoto Shinkai and voices by Mika Shinohara, Makoto Shinkai, Sumi Mutoh and Chihiro Suzuki. I would like to say and add that Makoto Shinkai is my favourite animated director, and I would be lying if I say I didn't cry when I first saw this and that was a little over 4 years ago. This very Low budget film that Makoto Shinkai made entirely on his own! Shocked even professional animators that he did the entire movie on his home computer. When I first saw this I wasn't expecting much but after viewing this 30 minute film and seeing so much could happen to ones love life and the years that are ahead without seeing the one you love just really sticks into the back of your mind, This movie I will never ever forget and that's a fact that will stay. [IMG]http://i53.tinypic.com/r8h1cp.jpg[/IMG] The story of the high school students Mikako Nagamine and Noboru Terao. When the alien Tarsians attack, Mikako volunteers to be a pilot in the space force that will protect mankind. The lovers try to remain in contact using cellular telephone text messages, but as each battle takes Mikako further from the Earth, each message takes longer to arrive. At one stage it takes up to 8 years, but can love really stand the test of time? [IMG]http://i54.tinypic.com/34smt7n.jpg[/IMG] Not sure what I loved the most in this, And this is one I will never forget and that's a fact. 100% for story: I just can't believe that this movie is so captivating in its emotions, Trust me one doesn't feel sad when they watch this. Every time I do view this, I feel something so different to most stories like these. 90% for voice acting: It's really touching as well as their amazing dialog, and some sentences you be happy for, but at the back of your head you feel like something else. So overall really good. 90% for Animation: It is AMAZING one created this on their computer, The scenery is stunning of the different planets and amazing worlds she sees. I can't praise it enough but it do have some lacks. 60% for characters: Well there crudely done I will say and they could have looked better, But there emotions really show. 90% for everything else: I really loved the music but really is there anything else? What can I say? See it on youtube if you can't find a DVD, trust me you won't forget it and his films. Keiko's score 94-100
½
Most prior reviews have said what needs to be said: this is a brilliant short animated film, with a plot and theme that are at once sincere and beautiful simple human emotion yet also high concept and metaphysically reflective. The most striking thing about this project's creation is that is entirely auteured. It begs the question that if one man with a bit of his wife's help can achieve this splendor, then why do teams of fifty plus struggle to crank out the slightly better than mediocre?
_kelly .King
Super Reviewer
Voices of a Distant Star Quotes
There are no approved quotes yet for this movie.