The Volga Boatman
(1926)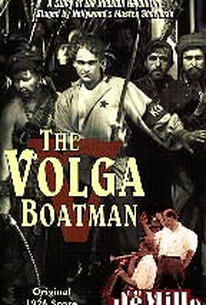 AUDIENCE SCORE
Critic Consensus: No consensus yet.
Movie Info
One feels that if Cecil B. DeMille had been assigned to direct the one-character play Krapp's Last Tape, he'd have added 15,000 extras and a flood. A typically overbaked (and immensely entertaining) DeMille effort, The Volga Boatman was "inspired" by a Konrad Bercovici novel. Set in the months prior to the Russian Revolution, the story opens as Princess Vera (Elinor Fair), promised in marriage to Prince Dmitri (Victor Varconi), chooses instead to spend her time with humble but handsome Volga boatman Feodor (William Boyd). Comes the revolution, and Feodor leads his fellow peasants in an assault against the nobility. Angered when Vera's father orders the death of one of his followers, Feodor breaks into her palace, demanding that either she or her father be executed as punishment. Vera courageously offers to sacrifice herself, but Feodor, who's fallen in love with her, can't bring himself to end her life. He fakes her execution and helps her to escape, introducing her to the other revolutionaries as his wife. When the Royalist armies counterattack, Vera and Feodor are captured and subject to a series of humiliations. Dmitri rescues Vera, but sentences Feodor to death -- relenting at the last minute when Vera pleads that Feodor be spared. Thus, when the balance of power shifts and Russia is again in the hand of the revolutionaries, Dmitri is allowed to go into safe exile by a grateful Vera and Feodor. The film's now-famous advertising photo, showing a group of aristocrats being forced to drag a ferryboat along the Volga, was later utilized for a memorable sight gag in the 1927 Laurel and Hardy comedy With Love and Hisses.
Critic Reviews for The Volga Boatman
There are no critic reviews yet for The Volga Boatman. Keep checking Rotten Tomatoes for updates!
Audience Reviews for The Volga Boatman
There are no featured reviews for The Volga Boatman at this time.
The Volga Boatman Quotes
There are no approved quotes yet for this movie.
Discussion Forum
Discuss The Volga Boatman on our Movie forum!