Voodoo Asesino
(2001)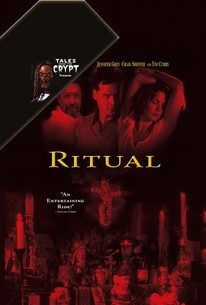 AUDIENCE SCORE
Critic Consensus: No consensus yet.
Voodoo Asesino Photos
Movie Info
Una doctora viaja a Jamaica para curar a una persona que vive allí, sin embargo al enterarse de los últimos asesinatos en el lugar decide regresar, pero algo la detiene.
Rating:
R (violence, language and some sexuality)
Genre:
Directed By:
Written By:
In Theaters:
On DVD:
Runtime:
Studio:
Miramax Films
Cast
Critic Reviews for Voodoo Asesino
Audience Reviews for Voodoo Asesino
½
Here's a film devastated by its incompetent director. "Ritual" feels cheap and a major reason for that is the directing and the editing. The film has numerous shots which go to an artificial slow motion that feels and looks tacky. It's a style/trick that a high school A/V student uses in their short films. In an adult feature, it makes the film feel that much worse. That's a shame, because the cast is trying their best to deliver a good film. Jennifer Grey in particular doesn't hold back, although it does feel a bit awkward that she dresses as scantily as she may ever have. Daniel Lapaine also manages to be sympathetic, which is necessary given the role he plays. Tim Curry I wish was in the film as a more significant element, but c'est la vie. The film is sort of a mystery and a fun mixture of voodoo and science. Unfortunately, the pacing is off thanks to a lackluster director and I found myself terribly bored and nodding off during the feature. I fought to stay awake to see who the culprit was at least, so that's somewhat successful. Although this film isn't very good, I did like it was still a "Tales From The Crypt" film and the Cryptkeeper got to do the bookends. It does make me wish Dimension cashed in on their acquisition more and made every horror film they put out a "Tales From The Crypt" film.
Robert I (Master of All Movies)
A revision of I Walked with A Zombie, Ritual serves as the final film in the Tale from the Crypt spin off, and possibly the worst one. Ritual was campy as hell with predictable plot and silly dialogues, it may be best avoided.
Sylvester Kuo
Super Reviewer
The third and last Tales horror flick which is a bit disappointing but judging by this effort I can see why. This time we are introduced to the Crypt Keeper with a Jamaican flavour complete with dreadlocks and bikini clad women at his beck 'n' call. Already the whole feel is wrong. Good cast for the film can't deny that, a solid quirky trio including Tim Curry, Jennifer Grey and Craig Sheffer. There are just a few problems, firstly you know who the bad guys are in the film right from the start, since when does Sheffer ever play the good guy?. Curry who is a marvellous character actor has nothing to do here in any way, complete waste, whilst Grey looks cute but doesn't quite seem comfortable in this genre. The plot is pretty damn near dull as hell actually, its all about voodoo and creating zombies naturally, what else seeing as its set in Jamaica. The thing is nothing much happens in this, lots of flashbacks/dreams with Grey walking around looking all serious trying to find out what's causing an illness that drives people loopy (zombies). I really was quite bored during the entire film, no action, no gore, no monsters or mutants etc...It is also played as a semi serious thriller with no laughs or comic horror like the previous two films. Easily the worst of the trilogy despite the nice cast and nowhere near as cool as the last two films.
Phil Hubbs
Super Reviewer
Discussion Forum
Discuss Voodoo Asesino on our Movie forum!
News & Features