Voodoo Man
(2009)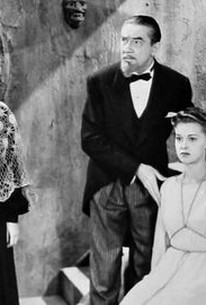 AUDIENCE SCORE
Critic Consensus: No consensus yet.
Movie Info
Though no more expensive or ambitious than any of his earlier Sam Katzman-produced vehicles, Bela Lugosi's Voodoo Man is perhaps the best of the batch, if only because of its quirky supporting cast and casually offbeat dialogue. Lugosi plays Dr. Marlowe, a practioner of voodoo who kidnaps nubile young ladies and places them in a state of suspended animation. He hopes that this practice will somehow restore his zombiefied wife (Ellen Hall) to her normal self. But when he abducts Betty (Wanda McKay), the girlfriend of screenwriter Ralph (Michael Ames), Marlowe's little scheme begins to unravel. Aiding and abetting Marlowe in collecting unwary females is gas-station attendant Nicrolas (George Zucco), while the doctor's retarded handyman Job (John Carradine, who has the film's best and most amusing scenes) dutifully looks after the quick-frozen cuties. When it's all over, Ralph enthusiastically suggests to his studio boss S. K. (not the real Sam Katzman, but reasonable facsimile John Ince) that the story of Marlowe and his voodoo-practicing cohorts would make a great film vehicle for Bela Lugosi! Best line: Lugosi calmly explaining that his wife seems so pale because "she has been dead for twenty-two years now."
Critic Reviews for Voodoo Man
Audience Reviews for Voodoo Man
½
This story has been done before in other movies starring Lugosi anyway, so there's really no reason to watch this one too. It's not bad, just boring.
Voodoo Man Quotes
There are no approved quotes yet for this movie.
Discussion Forum
Discuss Voodoo Man on our Movie forum!