Voodoo Man
(2009)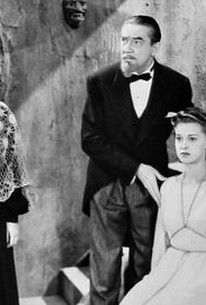 AUDIENCE SCORE
Critic Consensus: No consensus yet.
Movie Info
Though no more expensive or ambitious than any of his earlier Sam Katzman-produced vehicles, Bela Lugosi's Voodoo Man is perhaps the best of the batch, if only because of its quirky supporting cast and casually offbeat dialogue. Lugosi plays Dr. Marlowe, a practioner of voodoo who kidnaps nubile young ladies and places them in a state of suspended animation. He hopes that this practice will somehow restore his zombiefied wife (Ellen Hall) to her normal self. But when he abducts Betty (Wanda McKay), the girlfriend of screenwriter Ralph (Michael Ames), Marlowe's little scheme begins to unravel. Aiding and abetting Marlowe in collecting unwary females is gas-station attendant Nicrolas (George Zucco), while the doctor's retarded handyman Job (John Carradine, who has the film's best and most amusing scenes) dutifully looks after the quick-frozen cuties. When it's all over, Ralph enthusiastically suggests to his studio boss S. K. (not the real Sam Katzman, but reasonable facsimile John Ince) that the story of Marlowe and his voodoo-practicing cohorts would make a great film vehicle for Bela Lugosi! Best line: Lugosi calmly explaining that his wife seems so pale because "she has been dead for twenty-two years now."
Rating:
NR
Genre:
, , , ,
Directed By:
Written By:
In Theaters:
On DVD:
Runtime:
Studio:
Rifftrax
Critic Reviews for Voodoo Man
All Critics (1) | Fresh (0) | Rotten (1)
A nonsensical outing that benefits from a trio of horror vets in its cast and a good measure of camp in its script.

Audience Reviews for Voodoo Man
Pretty young women become missing after they stop at a filing station in a small town. The station's owner/manager Nicholas (George Zucco) is in cahoots with mad Doctor Marlowe (Lugosi), who collects young women for a twisted menagerie with the help of two henchmen, Toby (John Carradine's goofiest role ever), and Grego (Pat McKee). Marlowe's plot to revive a semi-dead wife through the methods of bizarre magical ritual (ostensibly referred to later as "Voodoo") unravels when Hollywood screenwriter Ralph Dawson (Tod Andrews) forgets to put gas in his tank, and hitches a ride with one of the would-be victims Stella Saunders (Louise Currie). Coincidentally, Stella happens to be driving to her friend Betty Benton's (Wanda McKay) wedding to Ralph (the "poor sop"). The goons sideline their victims using a road closed blockade, and Marlowe is able to monitor what happens on his property with some pretty high quality closed circuit TV. He uses the gizmos in his high voltage laboratory to shut down the engines of his victim's cars. Ralph goes for help, and meanwhile the goons abduct Stella. In the bowels of Dr. Marlowe's mansion, Marlow and gas station owner Nicholas, who seems to be wearing the same wizardry paraphernalia as Professor Marvel wore in the Wizard of Oz, in a ritual that requires John Carradine to play the bongo (so bad, it's hilarious) are trying to transfer the life essence of the comely abductees into his comely "dead" wife. Ralph thinks Stella has ditched him, so he walks to his fiancee Betty's (Wanda McKay) house. Neither Betty nor her mother Mrs. Benton (Mary Currier) have seen Stella. At about midnight, they decide to call the Sheriff (Henry Hall). Sheriff and Deputy Elmer (Dan White) pay the respected Dr. Marlowe a visit. He denies knowing what they're talking about. Driving back to town, they pick up Stella wearing a distinctive white nighty. Stella escaped because of Toby's incompetence. Toby is beaten, but Stella is brought to the safety of the Benton's home. Marlowe uses his psychic powers combined with his magic rituals to lure Stella back to his pad. Ralph and Betty drive to Dr. Marlowe's house to see if he has seen Stella. While in the company of Dr. Marlowe, Betty sees Marlowe's "dead" wife walking around in the same distinctive white nighty that they found Stella wearing. She pokes Ralph so he will see, too. For some reason they don't mention the distinctive white nighty until quite a bit later at a diner, as if it wasn't all that important. Eventually Ralph and Betty, whose powers of perception are like a steel trap, decide the distinctive white nighty really was important enough to warrant another call to the Sheriff. While Ralph is calling Sheriff from a phone booth at the diner, Marlowe's mind control (he's using sympathetic magic on one of Betty' white gloves she must have left in his living room) causes Betty to leave the diner and drive to his mansion, where he takes her prisoner. Ralph recruits the services of a good Samaritan with a car to tail her to Marlowe's estate. Inside, one of Marlowe's goons cold-cocks Ralph, so he's down for the count while Marlowe performs another life essence transference experiment, this time using Betty as a subject. The sheriff and Deputy Elmer arrive just in time. Marlowe attempts to throw a knife at the sheriff, but the sheriff shoots Marlowe. The whole ceremony is thrown off. Sheriff and Deputy arrest everyone. Mrs. Marlowe dies again, this time probably more thoroughly, while all of the female prisoners awake from their trance. Back in Hollywood, Ralph gives his editor a script based on the preceding events that are entirely true, as his new bride Betty will testify. But, who should play the leading part? "Give it to Bella Lugosi," says Ralph in the final line. This film is one of Lugosi's cheesiest performances, ranking right down there with The Bat. For a much better Voodoo Lugosi, see White Zombie, instead. The dialogue throughout was very amateur, with lines such as "He gave me the barber shop monologue," or, "and did you notice she wore the same dress Stella was wearing?" But to see John Carradine playing the bongos with a slack hand made it all worthwhile.
Galloway Grumblefield
The plot is thin and the characters are hollow, so there really isn't much to this film. Lugosi has his typical role and plays it well, but the overall shabby ending and slow progression just make the overall movie a bore.
Wes Shad
Another sadly painful Lugosi flick, "Voodoo Man" drags on at a pace in which even John Carradine can't speed up with his creepy limping around on set. Overall a rushed and boring film that can only be made better by mocking.
Sean Michael Smith
Voodoo Man Quotes
There are no approved quotes yet for this movie.
Discussion Forum
Discuss Voodoo Man on our Movie forum!