Voyage to the Prehistoric Planet
(1965)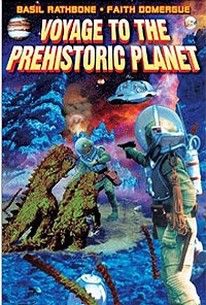 AUDIENCE SCORE
Critic Consensus: No consensus yet.
Movie Info
In this sci-fi film, an ambitious spaceship crew sets off on a quest to be the first people to travel to Venus, experiencing numerous adventures and problems along the way.
Audience Reviews for Voyage to the Prehistoric Planet
½
Goofy low budget science fiction film. The plot is messy and the characters aren't too great. The dinosaurs look silly but they, along with the robot and sets, give this film a very campy feel. Recommended to anyone who likes old cheesy sci-fi films.
Wes Shad
I found this movie as part of the Mill Creek 50 Sci Fi Classics, This is a Roger Corman film with notables Basl Rathbone and Faith Domeque who played is some 52 movie and TV Series. from 1941 - 1974 pretty impressive as many were Horror / Sci Fi Films. Now this was made long before star wars and we see in this movie basically the same hover car as in Star Wars, The movie itself is about 3 different space teams trying to land and explore Venus. One is destroyed by meteor, one crashes and one lands to rescue other team, during there stay on mars they encounter many strange plants and even little Godzilla looking Monsters. Its a great movie for old school science buffs. 3 Stars for this old black and white. The ending provides what appears to be the closing for a sequel Voyage to the Planet of Prehistoric Women
Bruce Bruce
Super Reviewer
½
One of the worst Science-fiction films of all time. The acting is so bad that it makes you slap your forehead in shame! The story is nearly incomprehensible and the editing is probably the worst I have ever seen. I have to say though that the set pieces, creatures, and atmosphere of the planet are done extremely well. They are creative, and fun to look at. If your a sci-fi buff I recommend to see this film with the sole purpose of the planet that was created. To it's credit this is one of those "B" movies that are so bad it's good! The acting is so wooden and the dialogue is delivered so poorly that it makes for an enjoyable "B" movie at times. However, other times it is just so bad that the one cannot follow the story or barely even hear what that characters are saying. It is times like those that make the movie almost unbearable to watch and will almost guarantee the use of the FF button. Overall, a "B" movie that at times is so bad that it's good. Complete with wooden acting, terrible delivery and great looking creatures/special effects.
Daniel Quintana
Voyage to the Prehistoric Planet Quotes
There are no approved quotes yet for this movie.
Discussion Forum
Discuss Voyage to the Prehistoric Planet on our Movie forum!