All Superheroes Must Die
(2013)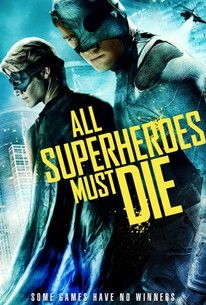 AUDIENCE SCORE
Critic Consensus: No consensus yet.
All Superheroes Must Die Videos
All Superheroes Must Die Photos
Movie Info
Four masked avengers find themselves stripped of their powers by a cruel arch-nemesis they defeated years earlier ... or so they thought. When the sinister mastermind puts the heroes through a series of brutal challenges that are virtually impossible to overcome, they must battle the clock - and even each other - in a race to stop a deadly countdown that could mean total destruction.
Critic Reviews for All Superheroes Must Die
Audience Reviews for All Superheroes Must Die
½
"All Superheroes Must Die" starts with Charge(Jason Trost, who also wrote and directed) waking up in the middle of a deserted street, battered and bruised. He is not alone, as he is also soon joined by his superhero comrades, Cutthroat(Lucas Till), Shadow(Sophie Merkley) and The Wall(Lee Valmassy). See, it seems their archenemy Rickshaw(James Remar) is tired of having his ass handed to him on a regular basis, so he has forced these heroes to play games in order to save the townspeople, on his own terms, of course. And if round one does not go well, then there is always the bonus round. "All Superheroes Must Die" proves that sometimes low budget is the best way to go, even with superhero movies, as it allows the filmmakers to take risks with the characters that larger productions could not dream of making.(It is a neat idea to get around special effects by de-powering the characters.) Granted, it is does start out kind of nihilistic but eventually once the viewer learns more about this world and the characters, we come to care about them and get valuable insight about the nature of heroism. Plus, James Remar really seems to be enjoying himself.
This film has one of the most original plots I've seen in a long time, however this film was panned by critics. After seeing All Superheroes Must Die, I really can't understand why it has one of the lowest IMDB ratings I've ever seen. It's nowhere near as good as it could have been, but it's certainly not as bad as most critics are making it out to be. Four superheroes wake up in an abandon town with their powers gone. Near them are TV sets, which explain that they have been captured by their arch-enemy, Rickshaw, and will be forced to play a game, in order to save the towns residence. The story is extremely original, but what I liked most about it was that the characters weren't over the top. The "superheroes" are actually normal twenty-somethings, who got powers from an object that fell from the sky. They are drinking, swearing, seemingly normal people, who were put into this impossible situation by a madman. Rickshaw is played by veteran character actor, James Remar, who was terrific. Parts of the film are slow and when things do slow down, Rickshaw, as clever as he is funny, is there to move things along. Jason Trost is the lead superhero, Charge, and he did a lot more than star in this thing, he wrote, produced, and directed it, which is a hard thing to do, especially for someone who doesn't have a lot of experience. The one knock I have against this film is that due to their small budget and independent status, much of the action scenes were very short. The challenges were clever, but by the time you understood what was going to happen, it was over. The film itself is very short, which doesn't allow them to go deeply into anything and that's what I think most people disliked about the film. It's not that this was a bad movie, it's that it really could have been a whole lot more.
Todd Smith
Super Reviewer
½
Some of the early fighting and hero work is iffy but if you can make it passed round one it is worth it.
Zombie Food
All Superheroes Must Die Quotes
There are no approved quotes yet for this movie.
Discussion Forum
Discuss All Superheroes Must Die on our Movie forum!