Vuxna Manniskor
(1999)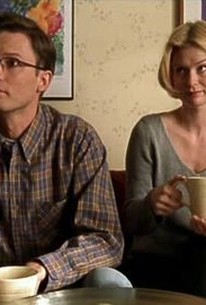 AUDIENCE SCORE
Critic Consensus: No consensus yet.
Movie Info
Fredrik Lindstrom and Felix Herngren's brisk and breezy Swedish sex comedy skewers male infidelity and sexual thrill-seeking. Frank (played by co-director Herngren) leads a respectable yuppie life working at a noted Stockholm law firm. He has also been married for eight years to his beautiful wife Nenne (Karin Bjurstrom), who runs an upscale boutique. Yet Frank is deeply bored with his life and is supremely randy. He even fantasizes about the marriage counselor that he and Nenne visit weekly. Eventually, Frank shacks up with a young fetching art student named Sofia (Kalla Bie), though the experience wracks Frank with guilt. Meanwhile, Nenne's friend and co-worker Rosie (Cecilia Ljung) suspects that Frank is having an affair, though she does not have the nerve to tell her. Little does Rosie suspect, however, that her friend is sleeping with her lover Georg (Mikael Persbrandt), an uptight journalist with an ego the size of Finland. Soon wires get crossed, and all hell breaks loose.
Critic Reviews for Vuxna Manniskor
There are no critic reviews yet for Vuxna Manniskor. Keep checking Rotten Tomatoes for updates!
Audience Reviews for Vuxna Manniskor
Who knew a swedish comedy could be so amazingly funny? Ever since it first came out in 1999, I always wanted to see this, but for some reason I never got around it. Now that I finally have, I'm happy to say it was as great as I had hoped. The story, revolving around a repressed yuppie lawyer with a very active, sexually-oriented imagination, is as raunchy as it is entertaining. The recognition factor is embarassingly high (especially if you're a guy), as the thoughts and fantasies of its main character rings hauntingly true. But that's what I liked about it, because it's honest in a way that few films ever are. Highly recommended to all the Swedes out there ;-)
Vuxna Manniskor Quotes
There are no approved quotes yet for this movie.