POV
(2005)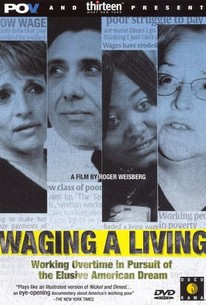 Movie Info
Compelling, and sometimes heartbreaking, "Waging a Living" chronicles the frustrating lives of four low-wage earners over three years. Included: a nursing assistant who supports three children as well as the kids of her oldest daughter, who has thyroid cancer; a security guard with $10 in his savings account; a waitress going through a divorce; and a child-care supervisor whose increased job earnings result in a drop in her standard of living as her government assistance is decreased.
Audience Reviews for POV
Waging a Living follows four people who fall into the category "working poor". This movie is about the struggle of average Americans trying to make a living while supporting a family. Some of these stories are quite sad. But it is typical. Read the book Nickel and Dimed. It tells the whole story. It is nearly impossible for a person to start at the bottom and make it on their own these days. The poor will always be poor. It wasn't the best documentary I have seen recently. It was good though. I have experienced these stories my whole life. This movie was nothing new to me. It is worth checking out though.
mike dudley
Wow... I'm the only person on all of Flixster that has seen this... crazy. Solid documentary about low wage workers. Further proof that the "American Dream" as it was once portrayed is quickly dying. Solid rental.
Shawn Palmquist
POV Quotes
There are no approved quotes yet for this movie.
Discussion Forum
Discuss POV on our Movie forum!