The Waiting City
(2010)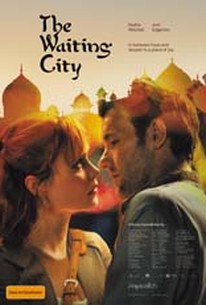 Movie Info
A couple eager to adopt a child find their relationship might not last long enough for them to get their new daughter in this drama from writer and director Claire McCarthy. Fiona (Radha Mitchell) and Ben (Joel Edgerton) are a couple from Australia -- she's a successful, self-starting lawyer while he's a relaxed, easy-going musician. Fiona and Ben want to adopt a child, and have traveled to India for what they imagine will be a quick and simple process. However, once they arrive in Calcutta they learn that little happens quickly in India, and for all the promises that has been made, completing the final stages of the adoption process is more complicated than they ever imagined. While Fiona stays in touch with her clients at home via the internet and deals with the legal red tape that's slowing down the adoption, Ben finds himself wandering the streets of Calcutta and adjusting to the rhythms of the city. The stress of the waiting period seems to reinforce the differences between Fiona and Ben, and tension begins to grow into anger and resentment; adding to Ben's dissatisfaction is his budding friendship with Scarlett (Isabel Lucas), an attractive fellow visitor who seems more compatible with his attitudes than his wife. The Waiting City was an official selection at the 2009 Toronto International Film Festival. ~ Mark Deming, Rovi
Critic Reviews for The Waiting City
Audience Reviews for The Waiting City
The kind of movie that critics like, I guess. Pretty setting. Well done...just really, really slow. Good to see Radha Mitchell in something that isn't terrible, though.
Cynthia S.
Super Reviewer
Upon arriving in Calcutta from their native Australia, Ben(Joel Edgerton), a musician, and Fiona Simmons(Radha Mitchell), a lawyer, are dismayed to find that her suitcase did not also make the journey. Happily, they find it a lot easier to find their driver, Krishna(Samrat Chakrabarti), and settle in for a wait at their upscale hotel. So before their appointment with their adoption case worker, Didi Chatterjee(Tanushree Shankar), Ben renews an acquaintance with Scarlett(Isabel Lucas), an old backpacking friend, while Fiona manages a case from afar. On the surface, "The Waiting City" has more than its share of culture clash cliches. However, the movie nicely slows its story down to match the more leisurely rhythms of India which it does a very good of photographing. Fine performances and a darker and nuanced mood definitely work in the movie's favor. It should still be pointed out that having or adopting a baby is not a cure all for a floundering relationship, as it puts much too strain on the poor kid. In any case, it is hard to imagine Ben and Fiona ever having been at the same place in their lives.
And us, The Waiting Audience. A lot of nothing happens storywise from the time an Australian couple arrives in India to claim the child they adopted. As delays occur, the couple begins to doubt their commitment to a family and to each other. The one good reason to watch this is to get a very good sense of modern life in India, filmed entirely on location in & around Calcutta. Dizzying street activity and peculiar (to Western eyes) ceremonies are fascinating to watch, including a wedding and a funeral in which the dead body is sent downriver on a raft - the same river people bathe and wash clothes in. Ick. With one of the most populous countries in the world, I'm afraid there is too much proximity for this traveler. I guess another reason to watch is why I did, because it stars Radha Mitchell. She won Best Actress at the Antipodes Film Festival in St. Tropez for this role; she's good as a work-obsessed lawyer, but really nothing out of the ordinary from her usual strong work. Her name Radha-Rani derives from Indian culture as her model mother was enamored with the country during the 1960s, so I imagine Radha had great interest in experiencing the country for herself. That's a great opportunity for her but not a reason for you to watch.
Doctor Strangeblog
Super Reviewer
The Waiting City Quotes
There are no approved quotes yet for this movie.