Waking Madison
(2011)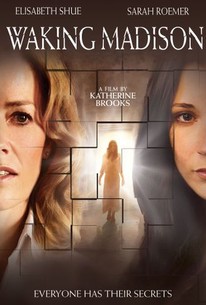 AUDIENCE SCORE
Critic Consensus: No consensus yet.
Movie Info
When the pressures of leading a normal existence become too overwhelming to bear, a troubled New Orleans woman suffering from Disassociate Identity Disorder locks herself away for 30 days in a desperate attempt to make sense of her fractured life. Madison Walker (Sarah Roemer) is a New Orleans phone-sex operator who is plagued by multiple personalities. Suicidal and desperate after a series of personal tragedies, Madison retreats to her apartment and begins documenting her harrowing mental descent in a series of soul-searching video diary entries. Should Madison fail to find some level of peace at the end of her 30-day experiment, she will take her own life. Assisting Madison in her despondent struggle for sanity is Dr. Elizabeth Barnes (Elisabeth Shue), a specialist who does her sincere best to help the disturbed young patient discern the real people in her life from those who are simply conjured up by her disorder. Taryn Manning, Erin Kelly, and Imogen Poots co-star in this probing psychological drama from Loving Annabelle director Katherine Brooks.
Rating:
R
Genre:
,
Directed By:
Written By:
In Theaters:
On DVD:
Runtime:
Studio:
Entertainment One
Critic Reviews for Waking Madison
All Critics (2) | Fresh (0) | Rotten (2)
Consumed with ambiguity and obvious mood while its critical sense of humanity is pushed aside for low-budget dreamscape showboating. Writer/director Katherine Brooks has passion, but her feel for storytelling is seriously tangled.

(It) boasts strong technical elements and some fine performances ..., a promising but ultimately undistinguished stepping stone in Brooks' filmmaking career.

Audience Reviews for Waking Madison
Waking Madison (Katharine Brooks, 2010) Waking Madison suffers from what I call the Curse of Synchronicity that seems to descend upon Hollywood at least once a year. This is when two screenwriters, independently of one another, end up developing the same idea into different scripts and, because no one talks to anyone else in Hollywood, two different movies with strikingly similar subject matter end up getting released within months, or sometimes weeks, of one another. (The classic example: in 2000, the twin box-office flops Red Planet and Mission to Mars were released six months apart.) Katharine Brooks, the director of Loving Annabelle, got smacked with it here, with her fourth feature-but telling you what the other 2010 movie is that turns on this exact mechanism would give the game away, so that's all the farther I can go there. Not that it would be a huge spoiler here, since Waking Madison doesn't rely on that particular Big Twist(TM) taking us all the way to the ending; she's dropped hints all the way through that this isn't quite what it seems, starting with the opening scene of Madison (Disturbia's Sarah Roemer), on a videotape, telling herself that she has thirty days to figure out what's wrong with her, and that if she hasn't by the end of that time, she's going to commit suicide-and that she has recorded this tape as a reminder to herself, in case she forgets. Fast-forward-or are we flashing back?-and Madison is in the bin with the usual collection of folks who range from the problem-with-authority muscle-dyke (Taryn Manning, who shows more verve here than she has since White Oleander) to the teddy-bear-clutching, gently-rocking girl (28 Weeks Later...'s Imogen Poots), all under the care of Elizabeth Barnes (Leaving Las Vegas' Elisabeth Shue). Which is about all I can tell you without giving away that first (but not the last, as that opening scene presages) big twist-though I can tell you that Dr. Barnes takes a special interest in Madison's case that involves digging into her past and meeting her rather terrifying mother (The Aviator's Frances Conroy) and milquetoast father (Meek's Cutoff's Will Patton), who end up figuring into things when we get round to the final confrontation. Waking Madison is a movie that has a chance at getting retroactive play-it was the first film financed by Megan Ellison, the now-powerhouse producer behind Annapurna Pictures, among whose 2012 projects were two films nominated for Best Picture (Zero Dark Thirty and The Master), as well as cult favorites Lawless and Killing Them Softly. And if that's enough to get people to go back and see it, then that's enough-this is as good as, probably a bit better than, the other movie that runs along those same lines that got released in 2010, but got a lot wider of a release because it had a much, much bigger-name director at the helm. And if that nets Katherine Brooks a few more fans along the way, well, she deserves it. ***
Robert Beveridge
Waking Madison Quotes
There are no approved quotes yet for this movie.