Walker
(1987)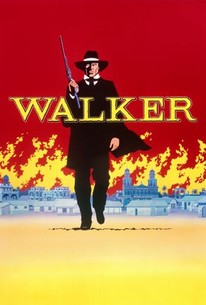 Movie Info
This historically-based satirical film follows the 1855 invasion of Nicaragua by American William Walker (Ed Harris). Walker led a group of revolutionaries to take over the country and proceeded to appoint himself president on behalf of the government of the United States.
News & Interviews for Walker
Critic Reviews for Walker
Audience Reviews for Walker
I really don't get the appeal. I like Alex Cox, but this is just...bad.
Ken Stachnik
Super Reviewer
½
A historical biopic on acid and about 13 other hard drugs! Alex Cox's "WALKER" is a feverish, unbelievably delirious film that while based on facts, refuses to limit itself in any way or take any obvious direction (in what other film could a 19th century Mercenary possibly make the covers of both TIME MAGAZINE and NEWSWEEK). I haven't seen a film this ridiculous in some time, but I actually really liked it! A part of me feels this film is some kind of odd work of manic genius; the other part of me thinks I'm completely insane for admitting that!
[font=Century Gothic]"Walker" starts in 1853 as William Walker(Ed Harris) barely survives his botched attempt at liberating a corrupt section of Mexico. Since that went so well, he is approached by Cornelius Vanderbilt(Peter Boyle) to head an expedition to Nicaragua to stabilize the country so he can profit off the overland route and a future canal. Walker is at first reluctant but joins up when his fiancee Ellen(Marlee Matlin) dies of cholera.[/font] [font=Century Gothic][/font] [font=Century Gothic]"Walker" is a wildly entertaining and exuberant movie incredibly based on a true story about a delusional man.(Anytime you start to believe your own press, you have problems, especially if you own a newspaper for that express purpose.) Directed by Alex Cox in a style that could best be termed as Peckinpah on mescaline, the movie utilizes more than its fair share of anachronisms to highlight the timelessness of the plot. Cox's intent was to indirectly comment on the covert war against the Sandinistas in the 1980's but since economic imperialism is eternal, then why could we not apply this movie's lessons to Iraq instead? [/font]
Walker Quotes
There are no approved quotes yet for this movie.