The Living Ghost
(1942)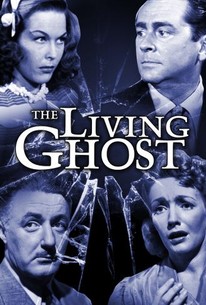 AUDIENCE SCORE
Critic Consensus: No consensus yet.
Movie Info
Wise-cracking ex-detective Nick Trayne is called in to try to find the whereabouts of wealthy kidnap victim Walter Craig. Craig unexpectedly turns up alive but with apparent brain damage, leaving him in a zombified state. Trayne and his perky assistant Billie Hilton have their work cut out for them as they must sift through a houseload of possible suspects to get at the culprit.
Audience Reviews for The Living Ghost
½
This is a strange, but somewhat interesting movie. I don't know what to think of it really.
Great cast, especially the supporting characters. Light and fun, a very entertaining "B" film. Good fun.
James Higgins
Detective Nick Traynor (Dunn) comes out of retirement to help find a banker who has vanished without a trace. While investigating the assortment of quirky family members and freeloaders that live in his house, the missing man reappears in a strange, zombie-like state and one of the permanent house guests is murdered. With the mystery deepeing and the murderer lurking in the shadows, Nick joins forces with the old man's live-in secretary (Woodbury) to uncover the truth. "The Living Ghost" is a fast-paced, lighthearted mystery comedy of the kind they simply can't make anymore. Woody Allen came close with the 2001 movie "The Curse of the Jade Scorpion" ([URL=http://www.rottentomatoes.com/vine/journal_view.php?journalid=245672&entryid=505662&view=public]review here[/URL]), but he mostly managed to demonstrate how important the acting styles of the 1930s and 1940s was to this genre of films. Today's actors and directors seem incapable of mounting the patter-running-at-a-mile-minute scenes that, as demonstrated in Allen's movie, are such an important part of what makes the old movies so much fun. In this case, the scenes between James Dunn (as the wise-cracking detective) and Joan Woodbury (as the give-as-good-as-she-gets secretary) where they fire jokes and insults back and forth at rapid pace are what makes this movie entertaining. The mystery is so-so (although there are some surprises and the way Nick tricks the murderer into revealing himself is more clever than it initially seems), but Dunn and Woodbury are great fun as they bicker and goad each other through the story. Director Wlliam Beaudine' was renowned for his speed and he has grown infamous for the high percentage of truly bad movies that are lurking among the 350+ films he worked on. I think I've seen about a dozen of them, and I so far, I agree with the overall assessment that he helmed lots of crap... but "The Living Ghost" stands out as a neat little film that should provide equal enjoyment to fans of old fashioned comedy/mysteries and the "dark old house" genre of films. (The one part that will probably be annoying to everyone is the way Nick Traynor keeps picking on and insulting the butler, who does nothing except be helpful.) A Walking Nightmare (aka "Lend Me Your Ear" and "The Living Ghost" Starring: James Dunn, Joan Woodbury, Paul McVey, Jan Wliey, and Norman Willis Diretor: William Beaudine
Steve Miller
The Living Ghost Quotes
There are no approved quotes yet for this movie.
Discussion Forum
Discuss The Living Ghost on our Movie forum!