Walking Tall
(2004)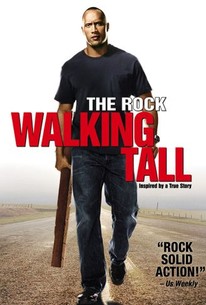 Movie Info
Chris Vaughn is a retired soldier who returns to his hometown to make a new life for himself, only to discover his wealthy high school rival, Jay Hamilton, has closed the once-prosperous lumber mill to turn the town's resources towards his own criminal gains. The town is now overrun with crime, drugs and violence. Enlisting the help of his old pal Ray Templeton, Chris gets elected sheriff and vows to shut down Hamilton's operations. His actions endanger his family and threaten his own life, but Chris refuses to back down until his hometown once again feels like home.
People Who Like this movie also like
News & Interviews for Walking Tall
Critic Reviews for Walking Tall
Audience Reviews for Walking Tall
It's the early years of the The Rock stepping out of the ring into the Hollywood silver screen, and surprisingly, he brought enough charisma to elevate a mediocre film to higher heights, and so he did with "Walking Tall". The story: out of whack for sure. The dialogue: horrible. And the movie as a whole is rife with cliches, but it's easy to relax and enjoy a flick like this all due to the electrifying energy that Dwayne Johnson throws onto the screen. It's just another cable television guilty pleasure that'll surprisingly keep you interested throughout.
Albert Kim
Super Reviewer
½
Walking Tall had the potential of being something very good. Instead the film is a disappointing action film with a meager cast. The film could have been done much better than this, and though it had an interesting story, the film falls apart halfway through. The thing that is shocking about the film is that it started well enough to be a good film, but like I said halfway through the film things start to fall apart, the film goes all over the place, and it doesn't try whatsoever to really redeem itself. This is disappointing because the film had such a great story. This film ends up being terrible, and being one of the worst action films in recent memory. I found it surprising to see Johnny Knoxville in a somewhat serious role, and to his credit, he wasn't bad in this. The actors do what they can with the lacking second half, but it's too late. Walking Tall is a mediocre action film that doesn't have anything really interesting to offer and it's a shame because the film started off well enough. This is a perfect example of screenwriters not being to effectively develop a solid second half to a solid first half. This film could have been terrific, but it fails and the film is quite unsatisfying in the end. A good first half but disappointing second make Walking Tall a film that really isn't effective, and with a good concept, it could have been a terrific action film.
Great Movie! Never get tired of watching it, The Rock is the shit! After eight years serving the U.S. Army Special Forces, Sergeant Chris Vaughn returns to his hometown seeking for a job in the local mill. He is informed by Sheriff Stan Watkins that the mill was closed six months ago and now the Wild Cherry Casino, owned by his former high school friend Jay Hamilton, is the major source of jobs and income to the town. Chris goes home, and meets his best-friend Ray Templeton, who organized a football game with their friends. After the game, Jay invites Chris and his friends to spend the night in his casino on him, but when Chris finds that the casino stick-man is cheating with the dices, he fights against the security men and is almost killed by them. When his nephew Pete has an OD with amphetamines sold by the security men of the casino, Chris realizes that the town is dominated by the mobsters and the corrupt sheriff and with a huge piece of wood, he breaks the casino and the criminals. He is prosecuted and in the trial, he promises to the jury and to the population that if he is considered non-guilty, he would be candidate to the sheriff position and clean the town. Later, Sheriff Chris Vaughn has to fight against the organized crime to keep his promise.
Walking Tall Quotes
| | |
| --- | --- |
| Chris Vaughn Jr: | You're right, Jay. This does change our relationship. You're under arrest. |
Discussion Forum
Discuss Walking Tall on our Movie forum!