Wallace & Gromit In Three Amazing Adventures
(1990)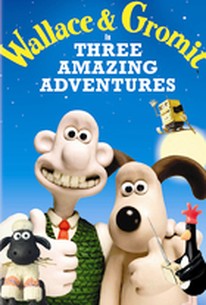 AUDIENCE SCORE
Critic Consensus: No consensus yet.
Movie Info
Rating:
NR
Genre:
,
Directed By:
Written By:
On DVD:
Runtime:
Audience Reviews for Wallace & Gromit In Three Amazing Adventures
½
Also an Interesting Look at the Evolution of the Animation I don't like dogs. And yet there is a small pantheon of animated dogs of whom I am extremely fond. What I think they all have in common is their long-suffering nature and that they are in general more intelligent than their owners. Oh, Penny is smarter than Brain, but Inspector Gadget isn't. And if there were any justice, Child Protective Services would take Mindy away from her horrible parents and give Buttons a break. It's true that Wallace (Peter Sallis) is a genius, or something, with gadgets, but he would be well and truly up a creek were it not for Gromit. It's also true that there is almost always something seriously wrong with the gadgets, and I think Gromit has long since resigned himself to the fact that he is probably going to die in some sort of horrible industrial accident. Oh, there's also Courage and Snoopy and a handful of others, but the Smart Dogs are the dogs nearest to my heart, and of those, Gromit is my favourite. The "three amazing adventures" are the first three Wallace & Gromit cartoons. We start, of course, with "A Grand Day Out," wherein Wallace builds a rocket in the basement so he and Gromit can take a holiday to the Moon. Because it's made of cheese, of course. They are pursued by a robot in the approximate shape of an oven. In "The Wrong Trousers," Wallace gives Gromit a set of robotic trousers for his birthday so that Wallace doesn't have to take him for walkies. They are also running out of money, so Wallace rents out the spare room to a sinister penguin. Who is in fact a wanted jewel thief who rewires the trousers to steal a fabulous diamond. Finally, in "A Close Shave," there is a wool shortage in town. Sheep all over are being rustled. Wallace also meets a girl called Wendoline (Ann Reid), who herself has a dog called Preston--and a knitting shop. Wendoline knows more than she is saying, of course. Of these, I like "The Wrong Trousers" best. For one thing, there is something so delightful about a sinister penguin, especially one which disguises itself as a chicken by putting a rubber glove on its head. As penguins are so often known to do. There is also the pleasure in knowing that it doesn't take the penguin long to work out that Gromit is the real brains of the operation and that Wallace does not appreciate him. (The special features includes a short wherein Gromit is awakened in the middle of the night to play a sheep so Wallace can count him over and over and get to sleep himself.) It takes very little work for the penguin to push Gromit out of the way and take over as Wallace's new best friend. This is not much of a surprise to Gromit, either. In the end, he is loyal enough to come back and rescue Wallace from the penguin and his own stupidity, but you really figure he'd be better off finding a new life for himself somewhere else. Somewhere he'd have a longer life expectancy. All three films were nominated for Best Animated Short; the only one to lose was "A Grand Day Out"--which lost to Nick Park's own "Creature Comforts." In many ways, stop-motion animation was a fading art in 1990, when "A Grand Day Out" and "Creature Comforts" were released. It would be several years before [i]A Nightmare Before Christmas[/i] was released, and Will Vinton's Claymation was beginning to ebb after its popularity of the '80s. In many ways, it was becoming reasonable to suspect that all hand-created animation was going to be on its way out. Disney wasn't dabbling much with the medium yet, and the first full-length computer-animated film would not be released for several years, but Wallace & Gromit seem to belong to an older time. Anyone looking at the advances in computer technology in that era might be forgiven for assuming that the slower, more traditional ways of making animation would soon be considered too expensive if cheaper and easier ways to replace them were found, and it was Aardman which helped prove that wrong. Indeed, much of the feel of Wallace & Gromit is nostalgic. Nick Park had Wallace express fondness for Wensleydale cheese, largely because he liked how it sounded and how Wallace looked when he said it. However, Wensleydale was one of the victims of standardizing tastes. Everyone wanted cheddar, and only a few small cheesemakers were producing Wensleydale anymore. Indeed, the story goes, the success of "A Grand Day Out" saved a company from bankruptcy. It is certainly true that, some time ago, I saw a round of Wensleydale in one of our local grocery stores with Wallace & Gromit emblazoned on the wax. (No, I didn't buy it; I didn't have any money at the time.) Wallace's house is decorated in Mid-Century Middle Class British Guy, full of shabby-but-comfortable-looking furniture. Even his gadgets have that kind of feel, looking like something out of a mid-century sci-fi flick. And, yes, he has the best dog in Britain.
Edith Nelson
½
[img]http://images.rottentomatoes.com/images/movie/coverv/50/248050.jpg[/img]The first three of Nick Park's award-winning animated series', WALLACE & GROMIT, revived interest in stop-motion animation just when it seemed as if the technique was hopelessly outdated. In A GRAND DAY OUT, which took Park over six years to make, ingenious inventor Wallace and his smarter-than-your-average-dog, Gromit, build a rocket ship and travel to the moon in a quest for cheese. [font=Comic Sans MS][size=3][b]Very well done animation & funny. People of all ages may enjoy this.[/b][/size][/font]
Bobbie Murphy
½
[url="http://www.rottentomatoes.com/m/wallace_and_gromit_in_three_amazing_adventures/dvd.php?select=1"][img]http://images.rottentomatoes.com/images/movie/coverv/50/248050.jpg[/img][/url] [size=3]It's now official: I'm a Wallace and Gromit fan. 'Three Amazing Adventures' is a great DVD that features three 30 minute W&G short films, as well as 10 mini-shorts about Wallace's wacky inventions going haywire. The 3 films featured are A Grand Day Out, A Close Shave, and The Wrong Trousers. [/size] [size=3]A Grand Day Out, which I'm pretty sure is the first W&G film, is about the cheese loving Wallace and his intelligent canine Gromit taking a trip to the moon, and getting into trouble with a disgruntled robot. A Close Shave is about Wallace and Gromit saving a group of sheep from an evil robotic dog. I loved the wonderful claymation in that one, and the inventive, fast, and fun action sequences. The final short (and my favorite of the three films), The Wrong Trousers, is about a mysterious penguin and a pair of robotic shorts, and the trouble they put Wallace and Gromit through. I loved the climax of this film. And if the mischievious gun-toting penguin in this film doesn't make you chuckle, I don't know what would! [/size] [img]http://images.rottentomatoes.com/images/user/profiles/42/109242/109439887ba8e7fd.jpg[/img] [size=3]This is a definite must buy, or at least rent, DVD for any fans of Wallace and Gromit....and everybody else. These little films are charming, funny, and exciting- definitely classics![/size] :fresh: [size=5]**** [/size][size=2](out of ****)[/size]
Bobby Brown
Wallace & Gromit In Three Amazing Adventures Quotes
There are no approved quotes yet for this movie.