Walt Disney's Classic Cartoon Favorites - Classic Holiday Stories
(2005)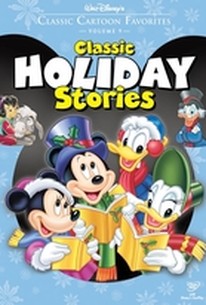 AUDIENCE SCORE
Critic Consensus: No consensus yet.
Movie Info
Rating:
NR
Genre:
On DVD:
Runtime:
Critic Reviews for Walt Disney's Classic Cartoon Favorites - Classic Holiday Stories
All Critics (1) | Fresh (1) | Rotten (0) | DVD (1)
Because The Small One and Mickey's Christmas Carol are so very good, we can excuse Disney for giving us short measure on this disc in terms of length.

The Little One is the real find within this three-cartoon collection, but the other pair are more than enjoyable enough -- particularly if you're a hardcore Disneyfan.

Audience Reviews for Walt Disney's Classic Cartoon Favorites - Classic Holiday Stories
What, Disney Didn't Have Any More Holiday Cartoons? I won't say I love "Pluto's Christmas Tree." It's definitely the weakest part of the collection. However, it's not terrible. It's about par for a Disney animated holiday short. However, it just emphasizes what's really wrong with this disc. Namely, its length. There is about an hour's worth of material on the disc. There are two not-quite-half-hour segments and one seven-minute short. Now, I grew up watching the much-repeated holiday special on the Disney Channel, the ones where they hauled out every single cartoon that so much as featured snow. There was enough to fill out quite a lot more disc, and given that both of the longer Christmas cartoons are one this one, it can't even be that they're just hoping to use them to pad out another dis. Unless somewhere there's a disc available of a dozen or more seven-minute cartoons that at least feature snow, if not Christmas. Probably the best known of the lot is also the last one, "Mickey's Christmas Carol." I actually saw it in the theatre in its 1983 release with [i]The Rescuers[/i]. Obviously, it is Scrooge McDuck as Ebenezer Scrooge; who else could it be? The various other roles of the Dickens work are filled by various other Disney characters. Mickey as Bob Cratchit. Donald, of course, as Nephew Fred, with Cyril Proudbottom (Mr. Toad's horse) pulling his wagon. Mole and Rat come collecting for the poor. Goofy is Jacob Marley. The ghosts, when they come, are Jiminy Cricket, the Giant, and Pegleg Pete. (Possibly minus his pegleg; it isn't always there.) The lovely Belle is Daisy, because they needed a female duck. In Disney style, they act out Dickens in under half an hour, leaving out quite a lot but managing to hit most of the bits people remember. (While, for example, Minnie is Mrs. Cratchit, she never actually gets any lines.) It always takes me by surprise how short it is, to be honest. The forgotten gem of the piece, conversely, is "The Small One," the last cartoon Don Bluth worked on before leaving Disney. It's the story of a young boy (Sean Marshall) and his donkey. The donkey is old, and his family can no longer afford to keep it. The boy's father (Olan Soulé) makes him go into town to sell the donkey. Naturally, no one actually wants an old donkey who cannot earn his keep. About the only person willing to even consider buying the donkey is the tanner (William Woodson). However, the boy loves his donkey, and he wants to find a good home for it. Since this is a Christmas collection, it's not difficult to guess who's going to end up buying the donkey. And while the town never gets mentioned, it becomes quite clear that the donkey is being used for a trip from Nazareth to Bethlehem. And the man who leads that donkey on its trip is voiced by the guy who played Mr. Carlson on [i]WKRP in Cincinnati[/i]! It's a sweet, gentle story with a few scary moments, and it manages to be religious but not preachy. And, you know, Pluto chases Chip and Dale around. To be perfectly honest, I've never been a huge fan of Chip and Dale. I didn't get into [i]Rescue Rangers[/i]; I was slightly too old for it when it aired. I also felt as though, not unlike [i]Smallville[/i], they were trying to graft more personality onto the characters than they would really hold. There are a couple of Chip and Dale cartoons that I do like, mostly ones where they aren't really interacting with other characters. And it's fine when they give Donald his comeuppance after he does something awful. However, when they first appear in the cartoon, they are mocking Pluto. Who, yes, is barking and leaping about, but alone of all the animals in the Disney universe, he is ruled by his animal nature. In short, he's a dog, and what else do you expect him to do? He reacts in an extreme manner, but he did just get pegged with a thrown acorn, and it seems to have hurt. Every year, I sit and watch the same half-dozen or dozen Christmas specials and movies. I have reviewed most of them, and I've already worked out what I will be doing for next Christmas. The holidays are mostly about tradition, it seems. Yeah, your tradition may be doing as much as you can to avoid the holidays entirely. I can even respect that. However, my life has been shaped, for better or for worse, by movies. It just feels wrong to go a year without watching Dudley struggle with his love for Julia, the bishop's wife. I don't feel any particular need to watch George Bailey on that bridge, or that kid in the '50s almost shoot his eye out, but I do need to watch Denis Leary yell at people. I need to watch Ebenezer Scrooge as portrayed by Scrooge McDuck and Michael Caine. Big Bird on the roof, waiting to see how Santa can get down the chimney. Charlie Brown and his tree. The Grinch and Max and Cindy Lou Who. Even Rex and Herb, and most people have long forgotten them. But if I watch anything more tonight, it will be them.
Edith Nelson
Discussion Forum
Discuss Walt Disney's Classic Cartoon Favorites - Classic Holiday Stories on our Movie forum!
News & Features