War of the Monsters
(1966)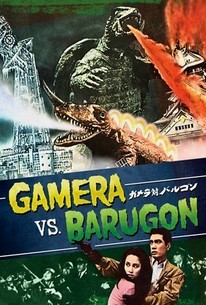 AUDIENCE SCORE
Critic Consensus: No consensus yet.
Movie Info
When Tokyo is threatened by a 130 foot tall flying lizard with laser breath, Gamera turns from destroyer of worlds to protector of humanity in this sequel from director Shigeo Tanaka. Shortly after Gamera is launched into space, a meteor strikes the rocket carrying the rampaging terrapin, freeing him to return to Earth. And just in time, too, because an enormous reptilian named Barugan is wrecking havoc on Tokyo, his deadly energy field destroying buildings, and sending frightened citizens running for their lives. As Gamera engages Barugan in a monumental fight both on the ground and in the sky, the same folks who once cowered in terror from the towering turtle now cheer him on.
Critic Reviews for War of the Monsters
All Critics (2) | Fresh (1) | Rotten (1)
The "best" of the early Gamera films; to a certain degree that works against it... it's probably a bit easier to actually enjoy a real howler of a terrible monster movie.
Barugon has a battering-ram tongue, nictitating eyelids and purplish blood; but what elevates him from weird to unforgettable is the deadly rainbow ray that emanates from his back -- a surreal, cartoonish and even poetical touch...
Audience Reviews for War of the Monsters
Another one of Gamera (turtle monster) movie that followed the cliché plot of Japanese creature feature. Nothing to see here.
Sylvester Kuo
Super Reviewer
So the first Gamera movie wasn't exactly a huge hit for me, but it succeeded in making me like the monster. Unfortunately removing Gamera for most of the movie is not exactly enjoyable in the sequel. A giant monster that emits a destructive ray from its back attacks Japan and takes on Gamera. That what's the plot synopsis said on the box, what a lie. For most of the movie Gamera is missing and Berugon is actually the main focus of the movie. It's a shame to, it opens up with Gamera destroying a dam which is the movie best moment and than goes to boring human characters. The story is really uninteresting and I laughed at some of the dialogue. Like in one scene, the native people warn our boring main human characters not to go to Rainbow Valley, my first guess was that evil Care Bears lived there. I was sadly wrong and what were left is an uninteresting plot with boring human characters that take up a good portion of the movie that should have belonged to Gamera. As for Gamera, I was disappointed that I didn't get to see more of the monster since the movie starts by showing him destroying a dam that got me pumped up. Sadly he's missing for most of the movie, Berugon on the other hand is the weirdest thing i've ever seen in a monster movie. Berugon powers are pretty lame too, he shoots a freeze ray from his tongue and has the ability to shoots a deadly rainbow. So after being amazed by the fact that Berugon can shoot a deadly destructive rainbow, I was disappointed in the finale. It was to short and it wasn't worth watching the boring human characters for most of the movie. So a Gamera movie doesn't that hardly shows Gamera doesn't work, that what I wanted to see. What I didn't want to see was Berugon for most of it and the boring human characters. To bad the film only good moments are when Gamera shows up, to bad there's hardly any of that.
Caesar Mendez
Super Reviewer
Gamera, the giant turtle that can fly, returns for his first "vs." flick. As far as looks go, there is not a whole lot to Barugon, but his special abilities make him stand-out. Barugon has an extendable tongue that can shoot freezing agents and can shoot destructive rainbows out of his back. It may sound incredibly stupid but his destructive rainbows are really cool to see when in use. The story is a lot stronger than the first film, with no kids in sight. The story has an adventure feel to it while providing an intriguing tale of greed and its implications. The movie almost operates like a Barugon solo film, for Gamera is not at the forefront of action. The film mostly focuses on the human efforts to stop Barugon. The biggest entertainment is seeing the human's novel solutions in trying to stop Barugon. The character Onodera is really despicable and slimy, which makes him a good human villain. The special effects are very good, probably better than the first film. Gamera may not appear that much in this installment, but that only makes his fights with Barugon all the more special. This would be the last serious Gamera film until "Gamera: Guardian of the Universe", the remaining films become more aimed towards kids. This film is the "Wrath of Khan" of the franchise, it is a lot better than the first film in every way. The story is surprisingly intriguing and the action sequences are a spectacle. Certainly one of the best of the Showa-era Gamera series.
Christopher Heim
Super Reviewer
War of the Monsters Quotes
There are no approved quotes yet for this movie.